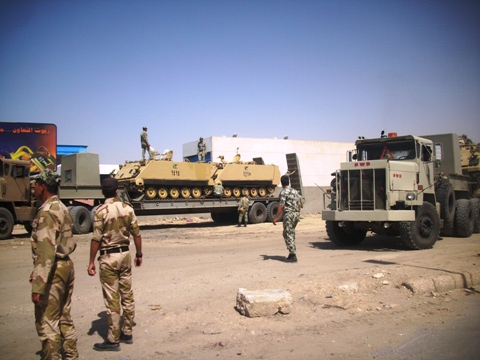 The Egyptian army sent reinforcements to the Sinai Peninsula on Monday - Aswat Masriya
CAIRO, Mar 21 (Aswat Masriya) - Egypt's army has raided several areas in Sinai governorate and arrested 38 "terrorist" elements, an army spokesman said on Thursday.
The Armed Forces and the police have been jointly launching crackdowns on militant extremists in Sinai as the latter are now targeting police and military institutions and personnel.
Security forces raided areas terrorist activities in Arish, Rafah, and Sheikh Zayed, said spokesman Ahmed Ali wrote on his Facebook page.
During these raids, 38 terrorist suspects were arrested and 20 tunnels linking Egypt to Gaza in Rafah were demolished, Ali said.
He added that 83 huts used by radicals and terrorists to launch attacks against police and army forces were torched.
The army has intensified its efforts to demolish tunnels between Egypt and the Gaza Strip since August 2012 after 16 border guards were killed by unidentified gunmen.