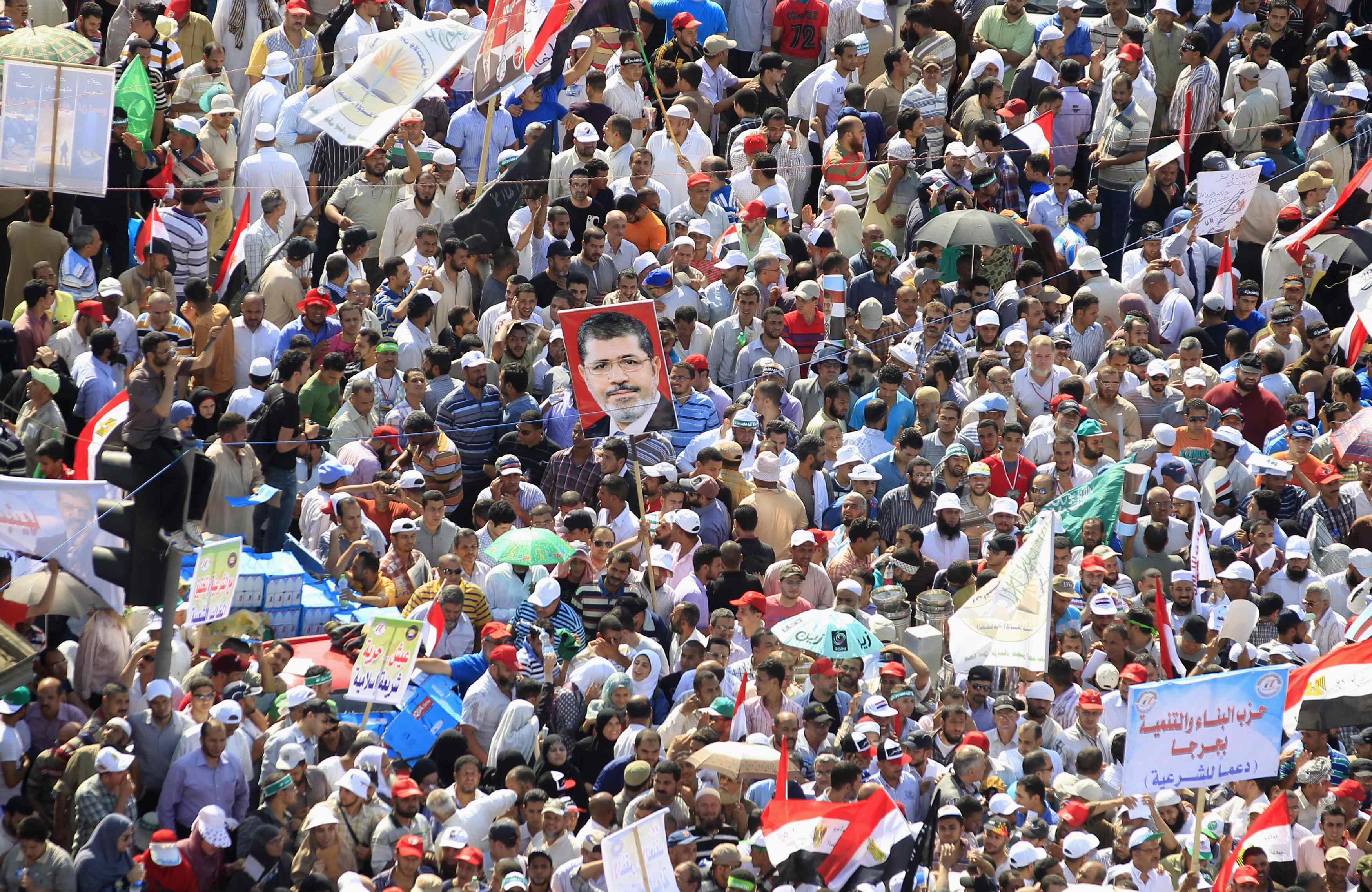 Supporters of Egyptian President Mohamed Mursi shout slogans during a protest around Raba El-Adwyia mosque square in Cairo June 21, 2013. REUTERS/Mohamed Abd El Ghany
ADDIS ABABA, July 18 (Reuters) - Egypt risks being engulfed in a civil war unless its newly installed interim government is expanded to include Islamists, the African Union warned on Thursday.
The bloc, headquartered in Addis Ababa, suspended Egypt this month after the military ousted President Mohamed Mursi on July 3 following huge street protests against his rule.
Alpha Oumar Konare, a former president of Mali appointed by the AU to lead a panel on Egypt, said the transitional authorities had not met what he said were their objectives of setting up a government that included all parties.
"The first risk (of excluding Islamists) ... is making instability more acute. This instability can lead to a greater ... risk of civil war, the risk of deepening violence on a daily basis," Konare told a news conference in the Ethiopian capital.
U.S. Secretary of State John Kerry said on Wednesday that Egypt may have avoided a civil war this month, saying this was one factor to weigh as Washington decides whether to cut most U.S. aid to Cairo, which it would be legally bound to do if it classified Mursi's removal as a military coup.
The overthrow of the Muslim Brotherhood-backed president cleared the way for this week's installation of a new interim cabinet charged with restoring civilian rule and reviving the economy. It included no Islamists.
Thousands of Mursi's supporters demonstrated outside the prime minister's office and marched through Cairo on Wednesday to denounce the new military-backed administration and show that they had no intention of bowing to army dictates.
(Reporting by Aaron Maasho; Editing by Alistair Lyon)