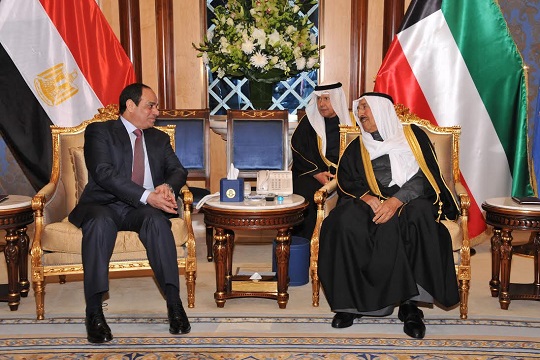 Egyptian President Abdel Fattah al-Sisi (L) meeting with Kuwaiti Emir Sheikh Sabah al-Ahmed al-Sabah in Kuwait, on January 5, 2015. Presidency handout.
CAIRO, Jan 7 (Aswat Masriya) - Kuwaiti investments in Egypt rank third among members of the Gulf Cooperation Council, preceded by the United Arab Emirates and Saudi Arabia, with a total investment of $1.9 billion, according to a report by Egypt's General Authority for Investment (GAFI).
President Abdel Fatah al-Sisi concluded on Tuesday his first visit to Kuwait since being elected as president in June 2014. Sisi met with the Kuwaiti Emir as well as businessmen to discuss investment opportunities.
Kuwait has been a strong supporter of Egypt since the military ousted Islamist president Mohamed Mursi in July 2013, following mass protests against his rule. The gulf country has provided Egypt with $3.7 billion of grants.
Kuwaiti investments in Egypt are mostly concentrated in the industrial sector with $644 million, real estate sector totaling $374.3 million, tourism sector with $329.3 million, and banking sector with $247.6 million, respectively.
The tourism sector in Egypt has been struggling since the January 25 uprising which toppled President Hosni Mubarak in 2011.
Kharafi Group, a Kuwaiti company operating in Egypt, owns the food services company, Americana, as well as other companies in the energy and real estate sectors. Kuwait also owns National Bank of Kuwait, which operates in Egypt.
The UAE takes the lead on investments in Egypt among the gulf countries, with a total amount of $4.7 billion, $2.7 billion of which goes to the telecommunications and information technology sector. The UAE owns Etisalat Egypt, one of the country's three cell-phone service providers.
The UAE banking sector investments are also quite expansive in Egypt. It owns five banks which amount to $2.2 billion in investments. The UAE owns real estate companies Emaar and Al-Futtaim groups.
Ranking second is Saudi Arabia, which invests $4 billion in Egypt, mainly focusing on industry, real estate, services and tourism.
Qatar comes in fourth place with $1.7 billion worth of investments. Qatar had been a strong supporter of the Mursi regime and provided $2.5 billion in central bank deposits, which the government has paid back in November. Since Mursi's ouster, the investments have scaled back by almost $266 million, according to the central bank.
Bahrain comes fifth with $840 million and Oman comes sixth with $28.7 million.
The total amount of investments by the GCC countries in the last 10 years has reached $13.2 billion.
(Reporting by Abd ElKader Ramadan, writing by Youssef Sallam)