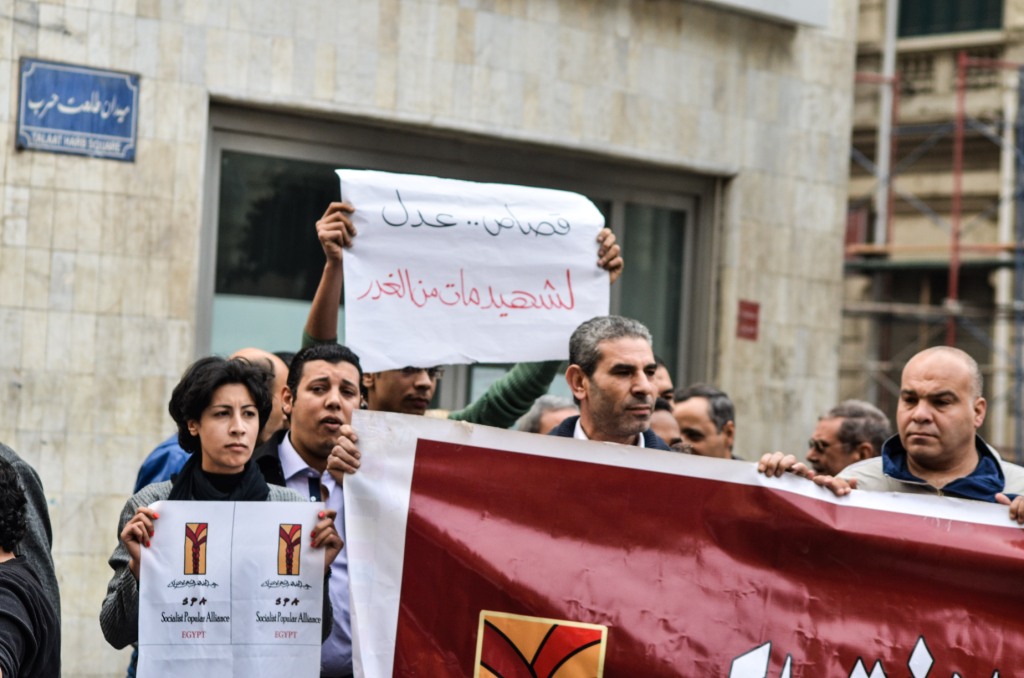 Shaimaa al-Sabbagh (L), member of the Socialist Popular Alliance Party, takes part in a protest in downtown Cairo shortly before her reported death, on Saturday, January 24, 2015. ASWAT MASRIYA/Mohamed al-Rayi
CAIRO, Jan 25 (Aswat Masriya) - Egypt's prosecution released on Sunday members of the Socialist Popular Alliance Party (SPAP) after they voluntarily headed to the prosecution to provide their testimonies on the death of party member Shimaa al-Sabbagh.
Sabbagh was killed on Saturday as security forces dispersed a protest in downtown Cairo, in commemoration of the January 2011 uprising's fourth anniversary.
The five released party members had taken part in the protest and were questioned by prosecution "as defendants", the Cairo-based Association for Freedom of Thought and Expression (AFTE) reported. They were accused of "illegal assembly, protesting without a permit and assaulting security forces," AFTE said.
The protesters admitted to being part of the protest along with Sabbagh, who sustained a birdshot wound which resulted in her death, a source from the prosecution said.
"The prosecution heard the testimonies of security personnel who participated in the dispersal of the protest and they denied using force or being armed with birdshot," the source told Aswat Masriya.
The prosecution also heard residents from the area who denied the use of birdshot by the police, the source added.
Security forces arrested another six protesters yesterday during the dispersal of the protest. They remain in custody as their testimonies are yet to be heard by the prosecution, the source said.
Prosecutor General Hesham Barakat ordered the questioning of security personnel who dispersed the protest and the records of the mission to disperse including the weapons used.