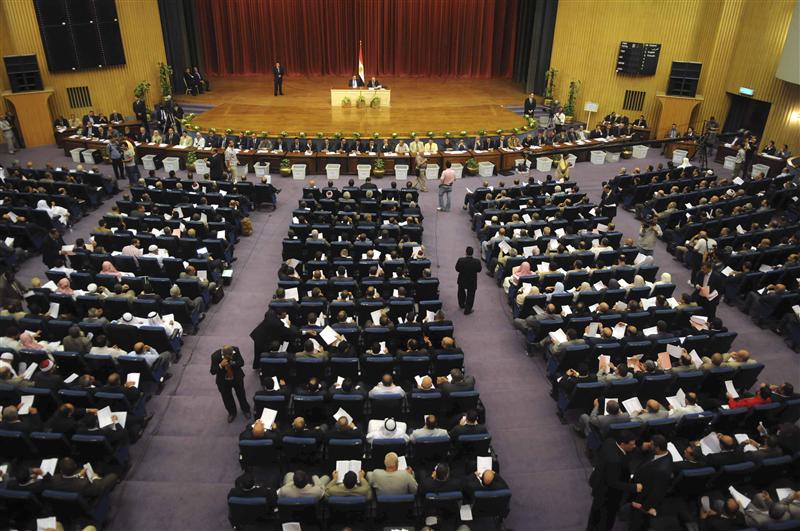 Parliamentary session to elect members of the constituent assembly on June 12, 2012 - REUTERS
By Tamim Elyan
CAIRO, Dec 27 (Reuters) - A Christian member of Egypt's upper house of parliament quit on Thursday, reflecting persistent political tensions just a day after the Islamist-dominated chamber took over legislative authority under a contentious new constitution.
The Islamist-backed charter, approved in a referendum this month, is meant to be the cornerstone of a democratic and economically stable Egypt. But the opposition says it is too Islamist and does nothing to protect minorities.
The resignation of Nadia Henry, who represents the Anglican Church in the upper house, also highlights worries by Egypt's Christians, who make up about a tenth of its 83 million population, about political gains made by Islamists since Hosni Mubarak was ousted in a 2011 revolution.
Under pressure to show tolerance towards all groups, President Mohamed Mursi appointed 90 members including Christians, Liberals and women to the upper house - with Islamists from the Muslim Brotherhood and ultra-conservative Salafis - last week.
But in a resignation letter published by the state-owned al-Ahram newspaper, Henry said liberal and other minority groups were not represented properly in the chamber.
"I agreed to the membership of the Shura Council (upper house) in the context of consensus that stressed all civil forces will get appointed," Henry wrote.
"Since that did not happen, I hope you accept my apology for not accepting the appointment," she said.
She did not attend the upper house session on Wednesday, the first with the appointed members.
The opposition fears that the Shura Council upper house, which will hold legislative authority until a new parliament is elected in early 2013, will issue laws curbing freedoms.
Mursi signed the new constitution into law this week after two thirds of Egyptian voters approved it in a two-stage referendum this month which the opposition said was marred by widespread violations.
Propelled to power by his Muslim Brotherhood allies this year, Mursi says the constitution and a subsequent vote to elect a permanent lower house will help stop political unrest and allow him to focus on burning economic issues.
Henry was one of the 90 members handpicked by Mursi into the 270-seat council. She was not immediately available for comment.
Any further resignations would threaten the legitimacy of the Shura Council at a time when it is expected to move fast with difficult reforms key to helping Egypt's battered economy.
Two-thirds of the upper house were elected in a vote this year, with one third appointed by the president, some of whom are members of the Muslim Brotherhood's Freedom and Justice Party and other ultra-conservative Salafis.
Mursi and his Islamist allies have urged the opposition to engage in national unity talks to achieve much needed consensus to help end an economic crisis that has widened the budget deficit and sent the Egyptian pound to an eight-year low.
"We stress again that the nation should achieve internal reconciliation and forget its differences," the Muslim Brotherhood's supreme guide, Mohamed Badei, told Egyptians in his weekly message.
"Let's work seriously to end the reciprocal wars of attrition. We are in an urgent need to unify ranks and group together and focus our capabilities and assets to the general benefit."
The constitution has come under attack from Mursi's opponents after Christians and liberals quit an assembly tasked with drafting the constitution earlier, saying the document gave no guarantees of a civil state and threatened freedoms.