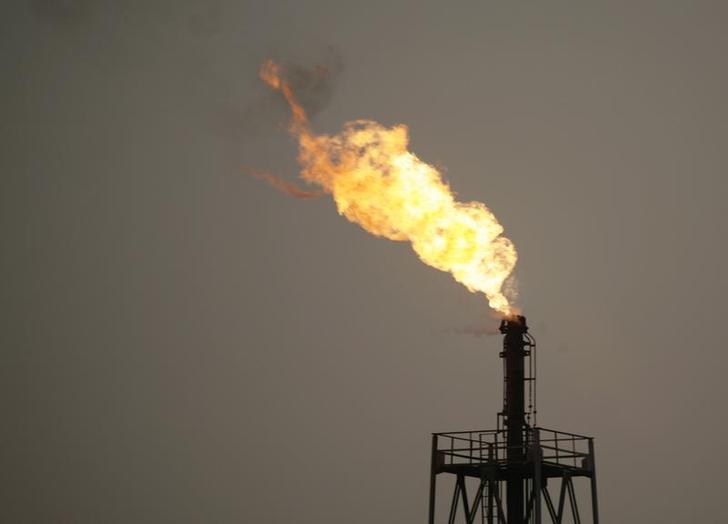 Flames rise from an oil refinery in Cairo, May 6, 2008. REUTERS/Nasser Nuri
CAIRO, Aug 10 (Aswat Masriya) - Egyptian President Abdel Fattah al-Sisi said on Monday that his government is "committed" to paying up debts to oil and gas companies "operating on its soil."
The president's statement comes as Egypt tries to attract cash in-flows and foreign investment to repair an economy battered by years of political turmoil.
Sisi told British Gas Group Chief Executive Helge Lund that Egypt has never "fallen behind" on paying its international obligations, according to a statement issued by the presidency.
The Egyptian president told Lund that Egypt has paid $3 billion of its debt in the past two years and that it is trying to bring in investments to create economic growth and provide job opportunities.
Egypt's Petroleum Minister Sherif Ismail said earlier this month that Egypt aims to reduce its oil debt to foreign companies to $2.9 billion at the end of August, from the current $3.5 billion Reuters reported.
The minister added that the rest of the debt would be repaid by the end of 2016.
Already past one year into his rule, Sisi's administration has been heavily pouring efforts into attempting to improve the country's economic condition.
Ismail took part in the talks between Sisi and Lund on Monday, during which Sisi welcomed British Gas's "desire to increase investments" in Egypt.
Lund said British Gas has invested around $4.5 billion in Egypt since 2011.
British Gas Egypt describes itself as one of the "largest producers of natural gas" in the country and as "one of the principal foreign investors in Egypt."
The company has been operating in Egypt for 25 years.