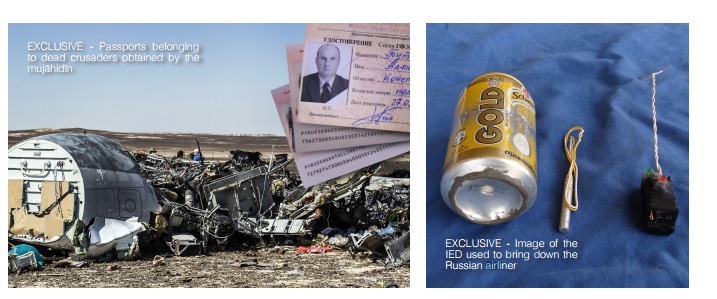 Images released by ISIS magazine Dabiq released online purporting to show the explosive device used to bring down the Russian plane in Egypt Sinai, on Oct. 18, 2015. Snapshot from magazine
Cairo, Dec. 25 (Aswat Masriya) – Russian authorities have identified groups potentially responsible for the Russian plane crash that killed 224 mostly Russian passengers on board in Sharm El-Shiekh last October, the head of Russian security services said on Thursday.
"You know, work [on this matter] is underway. So far, I am unable to tell you anything specific. We have determined the approximate origin of the entities that may be related to this," Russian news agencies quoted Alexander Bortnikov, head of the security services.
The Kremlin previously announced that the results of the Russian investigation into the passenger plane crash in Sinai found that it was an act of terrorism, and suspected that a homemade bomb had been leaked into the plane.
On the other hand, Egypt maintained that its own investigations found "no criminal actions." Egyptian aviation minister Hossam Kamal told the state-run news MENA that the plane investigations can "take a long time… a year or longer" before reaching conclusive results.
After an examination in November, Bortnikov announced that there were traces of "foreign made explosives."
"We can say with confidence that this was a terrorist act," he said.
Egypt's Cabinet also said in November that Egyptian authorities will "rely on the outcomes of these [the Russian] investigations as soon as they are provided," according to an English statement by Cabinet emailed to reporters via the foreign ministry.
The Egyptian Cabinet added that the results will be incorporated in a wider investigation "being carried out by the investigation commission composed of all international parties concerned with the incident."
The Sinai Province group, a Sinai-based affiliate of the self-proclaimed Islamic State, had claimed responsibility for the attack in a video they published on social media days after the attack.
The A321 operated by Russian airliner Metrojet disappeared from the radar 23 minutes after take-off and analysts agreed early on in the investigation that it broke up midair as its debris was spread over at least 13 square kilometers.
Meanwhile, Egypt announced Tuesday that it has hired the global consultancy company Control Risks to monitor the country's airport security in light of the Sharm El-Shiekh plane crash.