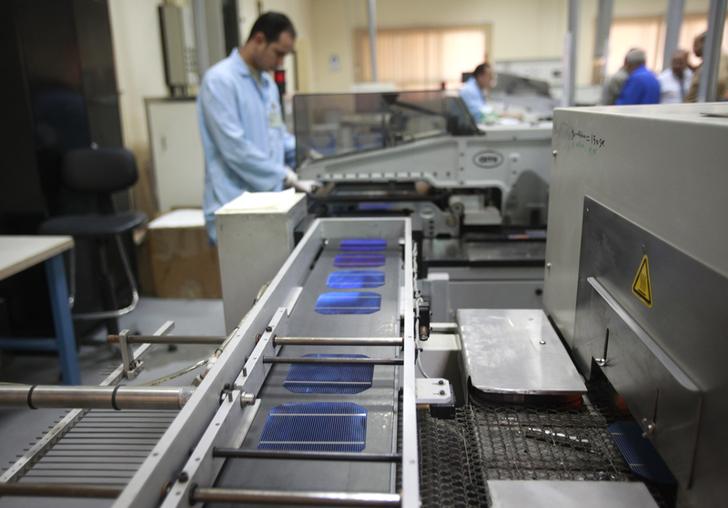 An employee is seen on the production line of the solar energy department at the Arab International Optronics (AIO) factory on the outskirts of Cairo, November 17, 2011. Picture taken November 17, 2011. REUTERS/Asmaa Waguih
CAIRO, Apr 23 (Aswat Masriya) - A megaproject to generate 100 megawatts of energy using solar power in Upper Egypt's Aswan city will be put forth by a state company, its chairman said on Thursday.
The project will involve companies from Egypt and five other countries, Canada, France, China, Germany and the United Arab Emirates, Abdel Aziz Seif el-Din, the chairman of the Arab Organization for Industrialization company said, according to a statement.
He added that the company has presented another solar power plant project that would make use of the walls of the company's facility on the Cairo-Suez road. It will have a capacity of 300 megawatts.
Seif el-Din said the foundation of this project will begin after the ongoing Cairo-Suez road expansion is completed. He encouraged all state institutions to use the walls of their buildings to generate electricity.
Egypt has been taking measures ahead of the summer as it faces an energy crisis it has suffered from for years.
The government has been shifting towards diversifying sources of energy, including building projects to generate electricity using both solar and nuclear sources.
Last month, Egypt launched a solar power plant in Siwa, west of the country. Meanwhile, the government is aiming to use solar energy for all lighting in the resort city of Sharm el-Sheikh within weeks.