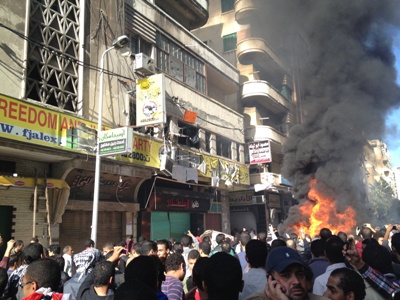 A Freedom and Justice Party headquarters in Alexandria torched - Aswat Masriya
Scores of residents in Alexandria's al-Hadra stormed the Muslim Brotherhood's Freedom and Justice Party headquarters to protest what they called the Brotherhood's use of live ammunition against protesters in Sidi Gaber, eyewitnesses told Aswat Masriya.
Thirty-six people were injured when clashes broke out in the city between supporters and opponents of President Mohamed Mursi, sources at Alexandria's health head office said.
Six of those injured were shot with live ammunition.
Security forces fired teargas to disperse the protesters.
Eyewitnesses reported that "snipers" on rooftops of buildings in Sidi Gaber area near the Brotherhood's administrative office in Alexandria were aiming at the demonstrators.
The snipers disappeared once five Armed Forces aircrafts flew at low altitudes above the area, they said.