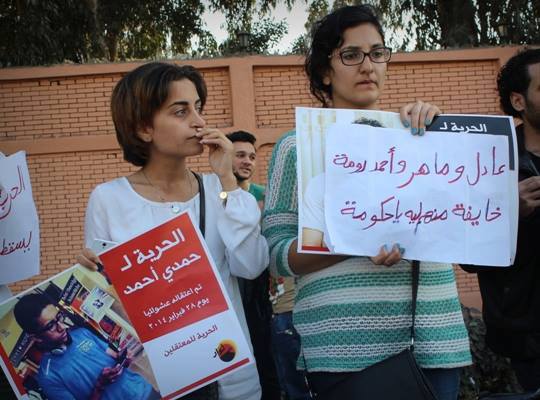 Tens of activists demonstrate by the presidential palace after a court upheld the jailing of Ahmed Douma, Ahmed Maher and Mohamed Adel on Monday, April 7, 2014. Ahmed Hamed/Aswat Masriya
CAIRO, April 8 (Aswat Masriya) Egyptian activists will hold a press conference on Tuesday to demand the release of Ahmed Douma, Ahmed Maher and Mohamed Adel who were sentenced to three years for violating a protest law.
Also attending the conference, which will be held at the headquarters of the Dostour Party in Cairo, are the Popular Current and the Egyptian Social Democratic Party.
Tens of activists organized a demonstration outside the presidential palace on Monday after a court upheld the December jailing of the three activists.
They demanded a presidential pardon to release the activists who were arrested while demonstrating against the protest law in November.
Douma's wife told Aswat Masriya that the verdict is political.