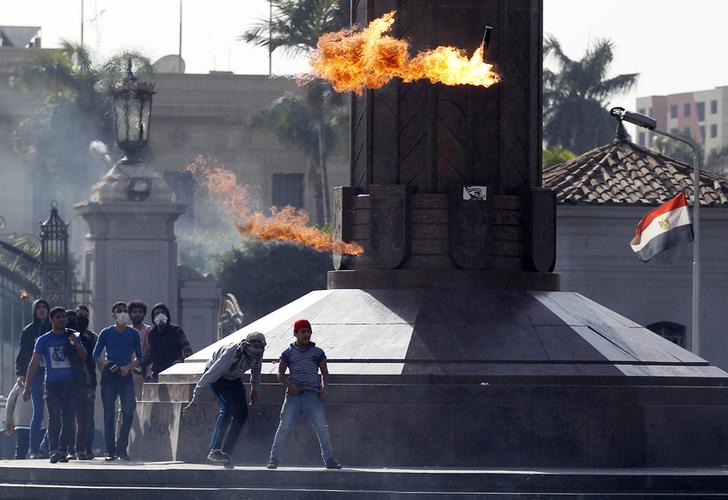 A masked student who is supporter of the Muslim Brotherhood and ousted President Mohamed Mursi throws a Molotov cocktail at riot police and residents during clashes outside Cairo University March 26, 2014.REUTERS/Amr Abdallah Dalsh
CAIRO, Nov 8 (Aswat Masriya) - Egypt's National Security department detected orders sent by the "International Muslim Brotherhood Organization" to members inside Egypt to provide financial support for the implementation of their "destructive" plans, Interior Ministry spokesman Hany Abdel Latif said Saturday.
The funds are deposited at some of the local NGOs and alms committees which are still run by Brotherhood members, Abdel Latif added.
Information shows the implication of Muslim Brotherhood members running the alms committee at al-Rahman mosque in the Boulaq al-Dakrour area in Giza, who call upon citizens to protest, the spokesman said. The majority of the funds is directed towards disrupting education and inciting riots at Cairo University.
The National Security department also identified an "organisational cell" set up by Brotherhood members at al-Azhar University, whose members assaulted a security officer, according to Abdel Latif. The same orders were also recorded at Alexandria University.
Six members of the "Anonymous against the Coup" movement were arrested alongside a number of "inciteful" Facebook page "admins", who were involved in some recent "terrorist" operations against the police.
Meanwhile, jailed media committee head of the dissolved Freedom and Justice Party (FJP) in Suez was found in possession of a mobile phone containing exchanged messages with al-Jazeera channel host Ahmed Mansour, and with his wife to receive money transfer from Doha, Abdel Latif added.
University campuses have witnessed unprecedented violence throughout the past academic year, with at least 16 students killed amid on-campus protests, according to the Association for Freedom of Thought and Expression's Student Observatory.
The "Students against the coup" movement has been organising protests against the former Islamist president's military ouster throughout the past academic year. Protests have often devolved into clashes with security forces.
Before the start of the 2014 academic year, the cabinet discussed measures to be adopted during the year to quell any possible tension.
Minister of Higher Education Sayed Abdel Khalek hired a private security company on September 24 to guard 12 public universities during the coming academic year.
Strict security measures adopted by Falcon Security Services at the university gates nevertheless triggered violence from the students, who became frustrated with their delayed entrance into campus.
Falcon's CEO Sherif Khaled told Aswat Masriya that the company had lost 30 thousand Egyptian pounds during the first two days of the academic year.