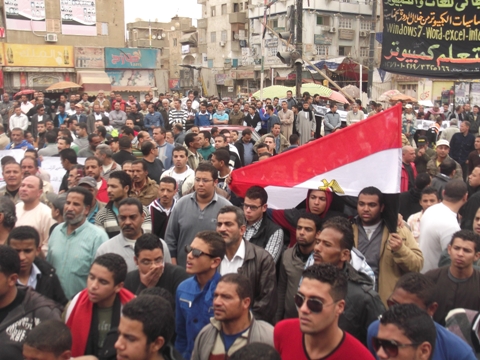 Demonstrations in Suez on the second anniversary of the January 25 revolution - Aswat Masriya
Egypt's Third Army field forces in Suez reopened on Sunday the (Suez - Ain Sokhna), after being cut off.
The Armed Forces removed burning tires that had been ignited and left on the road, reported the Middle East News Agency.
The road of (Suez - Ain Sokhna) was cut off on Sunday's afternoon by masked men and relatives of some prisoners, who had previously demanded not to deport the prisoners to other prisons in different governorates.
Unidentified people stormed the police stations of Suez Governorate on Saturday. They smuggled prisoners and set the prisons on fire which helped 18 prisoners escape.
The field commander of the Third Army, Osama Askar, said that a curfew is not imposed yet in Suez, pointing out that the imposing it is linked to the security situation in the governorate.