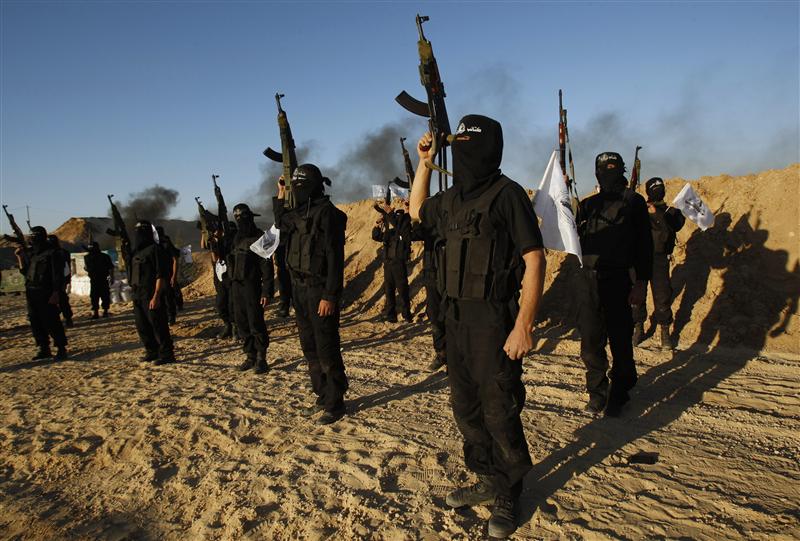 Islamist Militants in Arish - Reuters
SINAI, Sept 17 (Aswat Masriya) – Sinai-based militant group Ansar Bayt al-Maqdis claimed responsibility for an attack on a security convoy in North Sinai on Tuesday which left six security personnel killed.
One police officer and five policemen were killed in the explosion which occurred as a joint security convoy of policemen and armed forces personnel was passing through the Rafah-Arish road, according to an interior ministry statement. The attack also left two people injured.
A video allegedly released by the militant group on Tuesday shows the security convoy driving by as one of the armoured vehicles explodes.
Egypt's security forces have intensified their security measures in North Sinai in reaction to repeated militant attacks that target army and police officials, which rose significantly since the military ouster of former President Mohamed Mursi last year.
One officer and 10 conscripts were killed two weeks ago in an attack on a security convoy in North Sinai.
A security source told Aswat Masriya that the "method of bombing" used in Tuesday's attack is the same as the one used in the earlier attack which occurred two weeks ago.The militant group had also allegedly claimed responsibility for the latter attack in a similar video.
Ansar Bayt al-Maqdis is one of the most active militant groups operating in Egypt. The militant group has claimed responsibility for several terrorist attacks in Cairo and Sinai, including an attempt on Ibrahim's life last September.
Egypt's Interior Minister Mohamed Ibrahim announced on Sunday that the ministry eliminated seven "terrorists" affiliated with Ansar Bayt al-Maqdis after heavy crossfire in Suez.
A fact-sheet prepared by Egypt's ministry of foreign affairs put the death toll for terrorism acts which took place since January 2011 and until April 2014 at 971, including 664 security personnel.
On Thursday, Saudi Arabia hosted talks in Jeddah to discuss means of combating extremist groups within the region.The talks, attended by representatives from the United States as well as Arab and Muslim countries, granted the support of 10 Arab countries - including Egypt - to the U.S. in a "coordinated military campaign" against Islamic State fighters in Iraq.
During a meeting with U.S. Secretary of State John Kerry on Saturday, Egyptian President Abdel Fattah al-Sisi said the newly formed coalition should fight other militant groups in the region and not just Islamic State fighters.