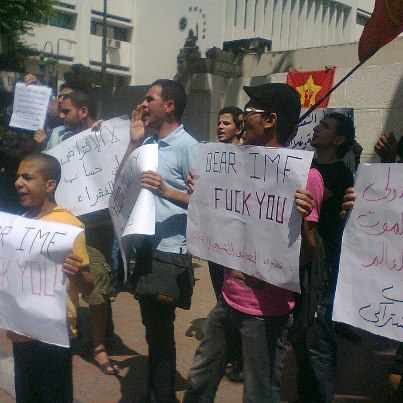 A march against the IMF loan to Egypt - photo from the Popular Alliance Facebook page
By Yasmine Saleh
CAIRO, Jan 7 (Reuters) - A senior IMF official met Egypt's government on Monday for talks on a vital $4.8 billion loan as the Arab state battles to contain a currency crisis set off by political turmoil that is depleting its foreign reserves.
The IMF's Middle East and Central Asia director, Masood Ahmed, met Prime Minister Hisham Kandil at the start of a visit coinciding with a sharp decline in the value of the Egyptian pound, which has hit a series of record lows against the dollar.
Before the visit, the International Monetary Fund had said Ahmed would discuss recent economic developments and "possible IMF support for Egypt in facing these challenges". Egyptian state media said the IMF team would stay for several days.
"We will attend many meetings with the Egyptian government today. The technical team will come later. All details will be discussed in these meetings today," Ahmed said after his meeting with Kandil. He was due to meet President Mohamed Mursi later.
The pound has lost more than 4 percent of its dollar value since Dec. 30, when the central bank introduced a new system for selling foreign currency to try to stem the fall in foreign reserves.
The pound last traded at 6.45 pounds to the dollar on Sunday . Markets were closed on Monday for a public holiday marking Coptic Christmas. The currency has now lost more than a tenth of its value in the two years since a popular uprising swept Hosni Mubarak from power in February, 2011.
Trying to revive an economy pummelled by a turbulent political transition, the Islamist-led government struck an initial agreement on the IMF Stand-By Arrangement in November.
But last month, Cairo postponed formal conclusion of the deal because of new political confrontations and street protests ignited by Mursi's drive to fast-track a new, Islamist-oriented constitution that was approved in a popular referendum.
Confronted by lethal street violence at the time, Mursi postponed planned tax increases seen as part of a package of austerity measures needed to secure the IMF loan.
With parliamentary elections approaching, Mursi has seemed wary of any action that could undermine the popularity of the Muslim Brotherhood, which propelled him to power in a June vote.
Kandil said on Sunday the government would seek to reassure the IMF about the government's economic plans and the economy's capacity for recovery.
Finance Minister AL-Mursi Al-Sayed Hegazy, who was sworn in on Sunday as part of a cabinet reshuffle, said he was ready to complete discussions on the IMF loan.
Having spent some $20 billion defending the pound since Mubarak's fall, the central bank introduced the new system for auctioning foreign currency to preserve what it described as critically low foreign currency reserves.
The central bank said on Sunday its foreign reserves had inched down $21 million in December to $15.015 billion. Economists had expected a steeper fall.