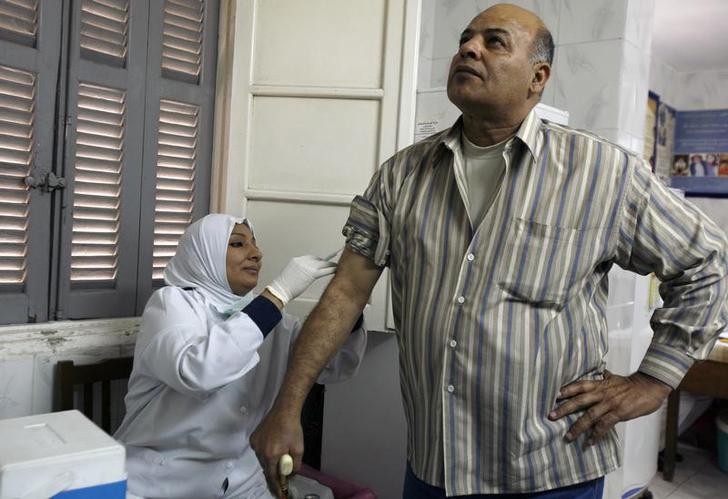 A nurse vaccinates a would-be pilgrim against H1N1 in a health centre in Cairo, November 8, 2009, ahead of the annual pilgrimage to Mecca. Egypt received the second batch of H1N1 vaccine from Britain in early November, local Nile TV reported. REUTERS/Asmaa Waguih
CAIRO, July 15 (Aswat Masriya) Egyptian Prime Minister Ibrahim Mehleb and Health Minister Adel al-Adawy have signed an agreement with the U.S.'s Gilead company to sell its Sovaldi treatment for curing Hepatitis C to Egyptians for 1% of its price.
Those with health insurance and/or being treated at state expenses will be able to buy the cure at 2,200 Egyptian pounds per cycle as opposed to its real price of 200,000 pounds (28,000 US Dollar).
In a press conference on Tuesday, Adawy said that the cure will be available in the last week of September at 26 national centers for treating liver diseases and Virus C in particular.
"This is a historic day for Egypt and patients with liver diseases," the minister said at the conference, adding that abroad the treatment, which lasts 3 months, costs about 84,000 US Dollar.
He added that some 170,000 doses will be provided until the end of December and up to 225,000 doses by February next year.
Egypt has one of the highest rates of Virus C in the world.