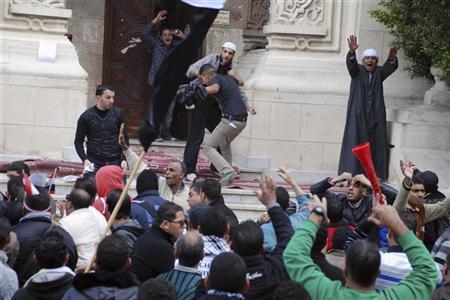 Clashes between supporters and opponents of President Mohamed Mursi in Alexandria on December 14, 2012 - Reuters
At least one person was killed and 27 were wounded during late night clashes between the supporters and opponents of deposed Islamist President Mohamed Mursi in Alexandria on Tuesday, medical sources reported.

The Mursi loyalists were staging a march on Tuesday night to denounce his ouster when they clashed with residents of the area at al-Manshiya neighborhood in Alexandria, reported the state-run news agency.

Live ammunition and rubber bullets were reportedly exchanged between both sides, in addition to pelting stones.

"Five person were shot with live ammunition and are at dangerous condition, one of them died," said the head of Alexandria's University hospital.

The clashes also left a bus torched and windows of many restaurants and shops smashed, reported the Ahram Online news portal.

Alexandria spokesman for the Muslim Brotherhood, Anas al-Kadi, accused the police of pushing thugs into clashing with the Mursi supporters during their march.