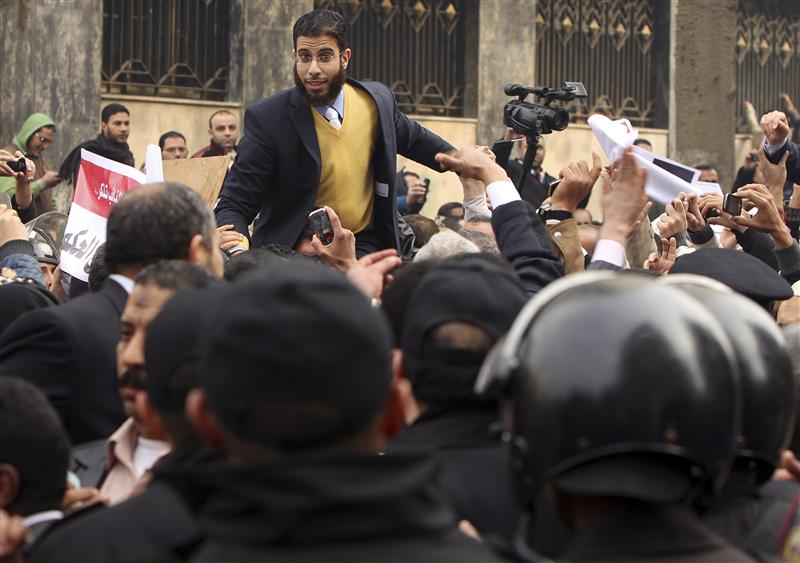 Spokesperson of Al-Nour Party Nader Bakkar in front of parliament in its inaugural session - Sohaib Salem/REUTERS
El-Nour Party official spokesperson and member of the Constituent Assembly Nader Bakkar has announced on his official Twitter account that pro-Morsi demonstrations planned for Saturday will be held in Tahrir Square.
"El-Nour Party agreed with parties supporting President Morsi's constitutional declaration to have the million man protest next Saturday at Tahrir Square," Bakkar tweeted, adding that supporting parties, including the Freedom and Justice Party, are keen to keep the protest peaceful and to avoid any clashes.
The tweets of Bakkar generated widespread anger among Twitter users who consider that the demonstration will surely end in clashes in Tahrir Square between Morsi supporters and those against his constitutional declaration.
Political parties and powers against the constitutional declaration issued by President Morsi last Thursday are holding an open-ended sit-in in Tahrir Square until the president annuls it. They are planning for mass protests in Tahrir Friday.
On Tuesday, the Freedom and Justice Party, along with other Islamist parties, decided to postpone demonstrations they planned in solidarity with Morsi in Nahdat Misr Square in Giza to avoid clashes.