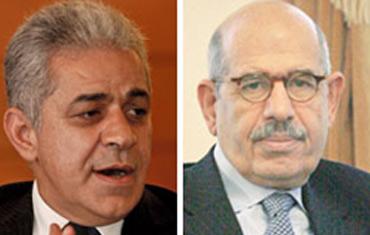 Mohamed ElBaradei and Hamdeen Sabahi - Ahram
According to the Muslim Brotherhood's Freedom and Justice Party news website, recently appointed prosecutor-general Talaat Abdullah has transferred a complaint against opposition leaders Hamdeen Sabbahi and Mohamed ElBaradei, as well as Mubarak-era minister and former presidential candidate Amr Moussa, Wafd Party head Al-Sayyed Al-Badawi, and Judges Club chair Ahmed El-Zend, to the Supreme State Security prosecution.
The complaint was reported by lawyer Hamed Sadek, accusing all five of inciting the overthrow of the regime, and specified that Moussa met with Israel's former foreign minister Tzipi Livni and agreed to "confuse" Egyptian President Mohamed Morsi – in coordination with the others accused – and provoke internal strife.
Moussa's withdrawal from the Constituent Assembly, according to the FJP report, was the beginning of the plan.
Protesters surrounded the presidential palace in Heliopolis on Tuesday to protest the recent constitutional declaration issued by Morsi, and the recently completed draft constitution.
The draft constitution, which will be subject to a national referendum on 15 December, has been rejected by many political groups and human rights organisations who argue that it falls short of being representative of Egyptians. The Constituent Assembly, which was tasked with drawing up the draft, was largely dominated by Islamist figures.
ElBaradei and Sabbahi are at the forefront of a current sit-in in Cairo's iconic Tahrir Square, in protest at the draft constitution.