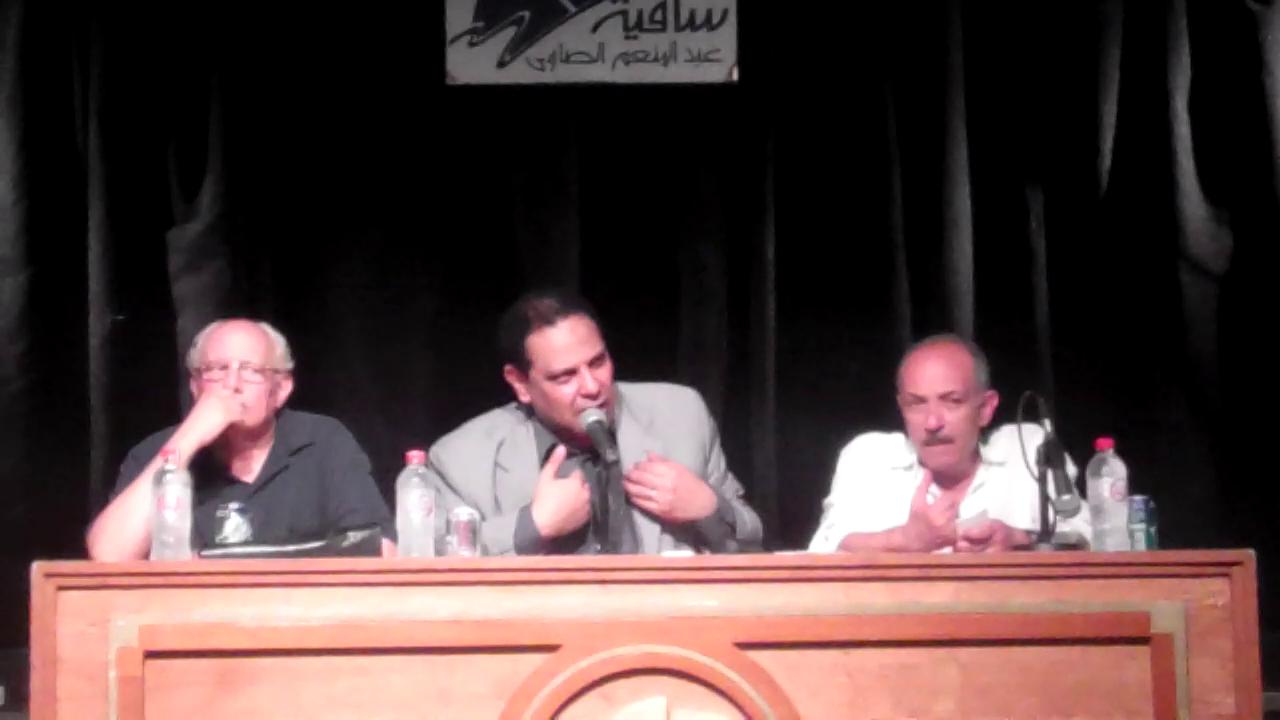 Novelist Alaa Al-Aswany in a lecture at Sawy Cultural Where in June 2012 - Aswat Masriya
By Mary Mourad
Al-Aswany launched his latest novel The Cars Club, a fiction set in British-occupied Egypt of the first half of the 20th century, among a large host of fans at the Cairo Opera House, an unusual setup for a book event.

The launch took place on Friday evening, and revealed an unexpected hunger for knowledge among young people who are hardly the usual intellectual crowd. Despite the cold weather and the unstable political turmoil just miles away at the presidential palace, the Open Hall at the Opera House was completely full.

Al-Shorouk Publishing House released the 600-page novel this week, predicted to be Al-Aswany's biggest hit since his last novel Chicago.

Al-Aswany started writing the novel in 2008 but stopped during 2011 when the Egyptian revolution broke out, which he supported and engaged in.

After visiting a famous car club in Germany and learning the story of invention of the world's first car, Al-Aswany decided to use that story as the framework of a novel.

Ibrahim El-Moalem, CEO of Al-Shorouk Publishing house, and Yousra and Ezzat El-Alayly, two prominent artists, were keynote speakers at the event that was attended by a host of political figures, artists and media figures.

Those attending included Mohamed El-Boraie, former minister of labour, Emad Abou-Ghazi, ex-minster of Culture, Asmaa Mahfouz, April 6 movement founder, Geroge Ishaq, founder of Kefaya (Enough) movement, and Mahmoud El-Khodairy, a judge, generally considered to be pro-Muslim Brotherhood.

El-Moalem introduced Al-Aswany by reflecting on his world-famous novel, Yacoubian Building that was a best seller for many years. The book was translated into 34 languages, sold over 6 million copies, won 18 awards, 17 of which were international and only 1 Arab prize.

Al-Aswany expressed his delight to reach this moment.

"Appreciation by readers is the true gift to any writer, and this event is exactly what reflects this."

"5 or 6 years to write a novel isn't exactly a very long time by comparison to the amount of time required by Dostoyevsky to write his novels," Al-Aswany explained. He described how he researched the history of car invention and used this only as a setup for the novel and creativity. He stressed, however, that the novel itself isn't a historical story, while attempting to be true to history, it is still fictional.

Ezzat El-Alayly, reading passages from the novel, expressed his delight with the novel "I feel my true Egyptianity with its humane style, which is what Alaa Al-Aswany presents."

The servant's supervisor, Al-Kou, the main hero of the novel, is an obedient servant for even the lowest-ranking foreigner and at the same time a tyrant dictator among fellow servants.

The choices by the rest of the servants is whether to protest and get rid of Al-Kou and bear the responsibility and price of freedom, or simply accept their status quo in return for stability and peace.

An important couple in the novel, Aly Hamam and his wife Aicha, are a complex couple, with their daughter Fayqa, who carries her mother's feminine coquettishness and her father's slyness.

The daughter is in a relation with young boy, Said, attracting him yet letting him only have what she wishes.

Al-Aswany explained that his characters sometime surprise him, leading into a situation where he finds himself observing them and being forced to abide by the characters' choice no matter what he himself would have originally thought they would do.

"Balzac, for example, was known to have experiences of speaking to his characters to the extent that his neighbours once feared he's insane and called the police," Al-Aswany reflected.

After completing the novel, Al-Aswany realised that the questions posed in the book have much to do with today's Egypt.

In response to the question on how the revolution affected his writing, Al-Aswany reflected on how people's feelings of oppression, which were most expressed during moments of the Egyptian revolution, enhanced his imagery and feelings of protest against repression in the novel.

Al-Aswany spoke extensively about the challenge of confusing the characters of the novels with the author himself, blaming the educational system that never teaches students how to read novels.

At the end, Al-Aswany shared a story about his experience in dealing with censorship and bereaucracy when he attempted to publish his first novel under the regime of ousted President Mubarak.

"The clerk at the General Egyptian Book Organization requested that I sign a statement to denounce my own characters' criticism of the government," Al-Aswany mused.

Al-Aswany is the founding member of the Kefaya (Enough) protest movement and was once included in Jordanian Royal Islamic Strategic Studies Centre's list of the top 500 most influential Muslims in the world.