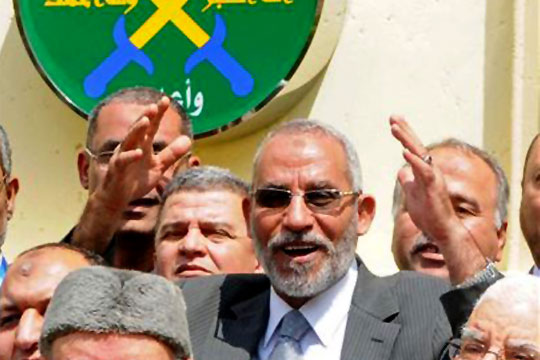 Supreme leader of the Muslim Brotherhood, Mohamed Badie - Mohamed AbdelGhany/Reuters
The Muslim Brotherhood group demanded the election of the Grand Mufti of Egypt not appointing him, calling for the integration of Dar Al-Ifta to Al-Azhar. Dar Al-Ifta authority is responsible for issuing fatwas (Muslim religious edicts).
In a statement reported by the Middle East News Agency (MENA), Abdel Rahman Al-Barr, member of the Brotherhood's Guidance Bureau and dean of the faculty of theology at Al-Azhar University, Mansoura Branch, called for developing new regulations under the amendment of Al-Azhar law no. 103 - after integrating Dar Al-Ifta to Al-Azhar - to have the Grand Mufti position by election not appointment.
Being the current executive power, the ruling military council has the right to renew the Grand Mufti post for Dr. Ali Gomaa, Al-Barr added.
Field Marshal Mohamed Hussein Tantawi, head of the ruling Supreme Council for Armed Forces (SCAF), issued decree 109/2003 renewing the post of the Grand Mufti for Ali Gomaa for a year as Gomaa will reach retirement age on March 3 since holding this post in September 2003.