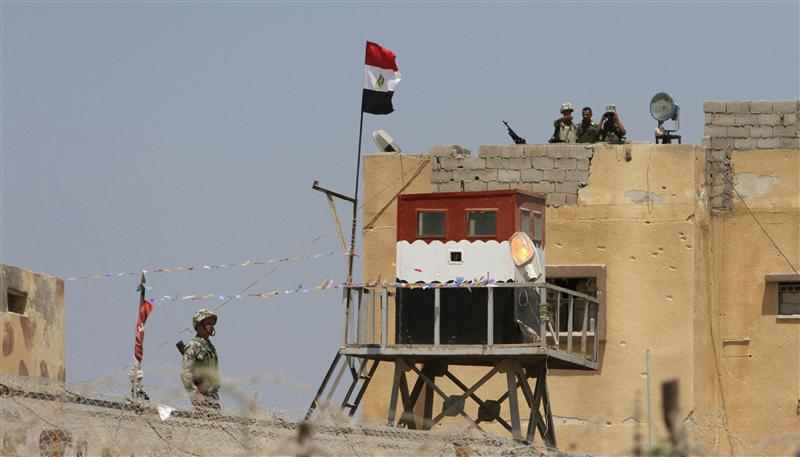 Egyptian soldiers guarding the borders between Egypt and Gaza - Reuters
CAIRO, Sept 15 (Reuters) - The Egyptian army is clearing buildings deemed a security threat at a distance of up to one km (0.6 miles) from the Gaza border, an army spokesman said on Sunday, accusing groups in the Hamas-run territory of mounting joint attacks with Sinai militants.

Ahmed Ali, the spokesman, said the move did not amount to a buffer zone which Hamas fears Egypt is creating along the border to further isolate Gaza, whose economy is propped up by smuggling through tunnels to Sinai.

He was speaking during a news conference in Cairo to present the army's progress since it stepped up operations against Islamist militants in Sinai last week.

The army seized weapons including anti-aircraft missiles, he said. Motorised paragliders had also been found, which he said showed an effort to develop new methods of attack.

The Sinai militants have expanded into a security vacuum that emerged following the downfall of Hosni Mubarak in February 2011. The militants have stepped up attacks there since July, when the army deposed President Mohamed Mursi of the Muslim Brotherhood, an ideological cousin of Hamas.

Attacks on security forces are now occurring almost daily, and rocket-propelled grenades were fired at a vessel passing through the Suez Canal on Aug. 31.

Ali said the army was "dealing" with any building deemed a security threat in a corridor stretching from 500 metres to one km from the Gaza frontier. He said houses concealing tunnels used for weapons smuggling were a threat to national security.

The army had destroyed 152 tunnels since June 30, he added.

Ali declined to accuse Hamas directly of attacks in Egypt, though he said hand grenades stamped with the name of the Palestinian group's armed wing, the Qassam brigades, had been found in the security sweep.

"There is cooperation between the armed terror groups with their counterparts in the Gaza Strip, and more than one joint operation has been monitored," Ali said.

Egyptian state media last week reported that Hamas had been involved in teaching Islamists in Egypt how to plant bombs and that it had given them landmines - an accusation dismissed by the Palestinian group as an attempt to demonise it.

Ali said the military on Friday found two bombs beneath a security observation tower with detonation fuses that ran through a tunnel into Gaza. "The detonation was going to happen from Gaza," he said.

He screened a video in which eight of 18 men detained in the security sweep identified themselves as Palestinian.

Ali gave no toll for how many militants had been killed in the sweep, but said 309 Islamist extremists had been arrested. More than 100 members of the security forces have been killed and 140 more wounded in Sinai since Mursi's downfall, he said.

A 20-minute video showed tanks and helicopter gunships opening fire, soldiers seizing weapons and armoured personnel carriers on patrol with extra shields to protect them from rocket-propelled grenades.

Ali said the deterioration of the security situation in Sinai marked a threat to Egypt "that could spread to threaten regional and international security".