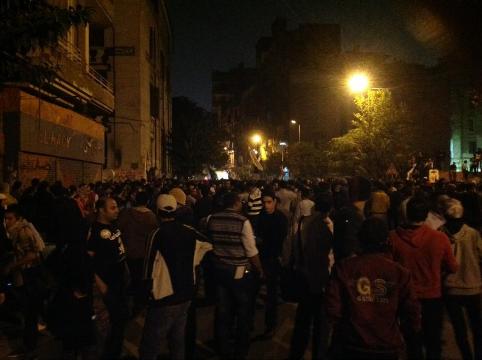 Activists gather in Downtown Cairo to commemorate "Mohamed Mahmoud" clashes of last year on November 19, 2012. Mohamed AbdelWahab/Aswat Masriya
Egypt was able to arrest 19 "troublemakers" in scuffles that erupted in Cairo on Monday between protesters and security forces, an Interior Ministry statement confirmed on Tuesday.

Thousands of activists rallied yesterday to commemorate the anniversary of last November's "Mohamed Mahmoud" clashes where over 40 people were killed in confrontations with security.

The ministry's media spokesman said that the attacks of the troublemakers injured 29 police officers, adding that security forces were keen to practice utmost self-restraint to avoid casualties.

Forty-four people were injured in confrontations that began on Monday evening and dragged on until the early hours of Tuesday, a medical source said earlier.

The injured, whose wounds ranged from contusions and suffocation to fractures and "birdshot" injuries, were transferred to local hospitals for treatment.

Order has returned to Egypt's Tahrir Square and areas leading to it, reported the Middle East News Agency on Tuesday.