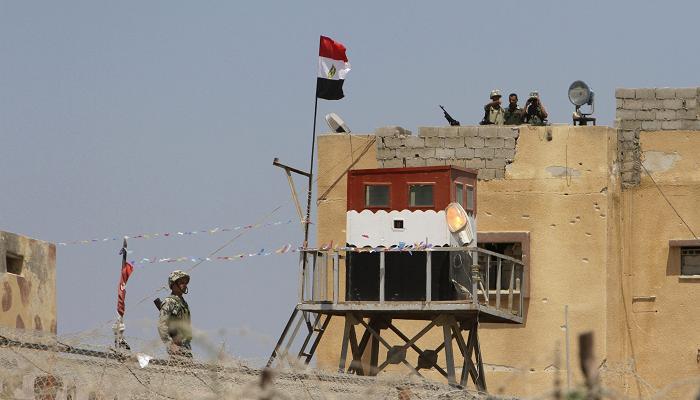 Egyptian soldiers stand guard on the border between Egypt and the southern Gaza Strip, near Rafah August 6, 2012.Ibraheem Abu Mustafa/Reuters
CAIRO, Oct. 7 (Aswat Masriya) - The Rafah border crossing which connects Egypt and the Gaza Strip was temporarily opened on Wednesday to allow for passage of pilgrims returning from Saudi Arabia.
The corssing will remain open until Oct. 10, according to the official Middle East News Agency.
The Rafah border crossing was last opened in September to allow pilgrims to leave the Strip for Saudi Arabia.
The densely populated Gaza Strip is run by the Islamic Resistance Movement (Hamas), which took over the area in 2006 after winning the Palestinian legislative elections. Ever since, Gaza has faced sanctions and has been under a land, air and sea blockade since 2007.
The border crossing, which is the main exit and entry point of the Strip has been shut since October 2014, except for 33 days of partial opening, according to the United Nation's Office for the Coordination of Humanitarian Affairs (OCHA).
Gaza, which shares a border with Egypt, is home to 1.8 million people and is currently recovering from destruction caused by 50 days of Israeli military operations in the summer of 2014.
According to figures by OCHA, around "18,000 housing units were destroyed or severely damaged" during the Israeli bombardment of the strip in July and August 2014.
Last year, Egypt and Norway co-hosted a donors conference on the reconstruction of the Strip, raising around $5.4 billion. However, the international efforts to raise money for reconstruction have had little effect on the ground.
According to the World Bank, which is monitoring the delivery and disbursement of pledges, by August 2015, only 35 percent of pledges had been disbursed.
On Sept. 18, the Egyptian army began flooding the underground smuggling tunnels that supplied essential goods to the besieged territory.
Egypt has been fighting a growing militancy in the North Sinai region.
It sees the tunnels as a direct threat to the country's security, asserting that arms and militants were flowing through them.