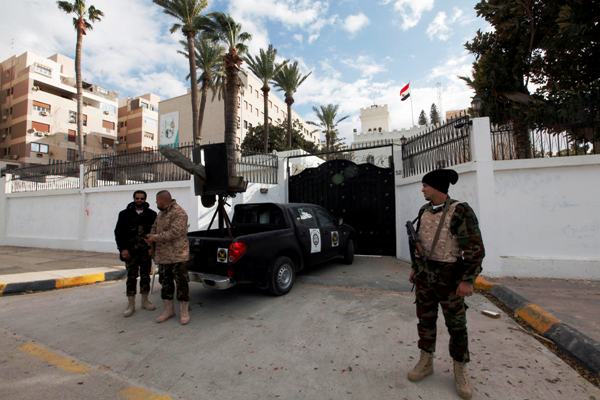 The Egyptian embassy in Libya - Reuters
CAIRO, Jan 9 (Aswat Masriya) – Libya's illegal immigration authorities arrested a number of Egyptians along with others and confiscated the used vehicles, Foreign Ministry spokesperson Ahmed Abo Zeid stated on Saturday.
News about 21 Egyptians detained by the Islamic State in Libya circulated in the media Friday night.
The ministry's statement added that Egypt's ambassador to Libya, who is based in Cairo, is in constant contact with the Libyan authorities, working on the release of the detained Egyptians with the cooperation of the local authorities and the elders of the city of Zalla where Egyptians reside.
Egyptians residing in Libya have been caught up in the country's internal conflict which has recently proliferated.
Accordingly, Egypt has warned against travel to Libyan territories and called for Egyptians living in Libya to exercise extreme caution.
Less than a year ago, in Feb. 2015, ISIS-affiliated militants abducted 20 Egyptian Christians in the Libyan city of Sirte then beheaded them, releasing a video of their beheading afterwards.
In response, Egypt launched airstrikes in Libya in the same week of the video's release. The Egyptian military said in a statement the strikes targeted training sites and weapons and ammunition storage sites belonging to ISIS fighters in the country.
Violence has intensified in Libya particularly since 2014, when conflicting parties sought to take control of the country.
The Libyan capital Tripoli fell under the control of the Fajr Libya or Libya Dawn Islamist militia in August 2014.
Meanwhile, Egypt and the international community only recognise authorities based in the eastern Libyan city of Tobruk.
The latest UN Security Council resolution on Libya, adopted on Dec. 23, welcomed the outcome of the Libyan Political Agreement of Shkirat, Morocco which stipulated the formation of a Government of National Accord consisting of the Presidency Council and Cabinet supported by other institutions of the state.
The Presidency Council is an interim 30-day governing body, entrusted with finalising interim security arrangements necessary for stabilising Libya.