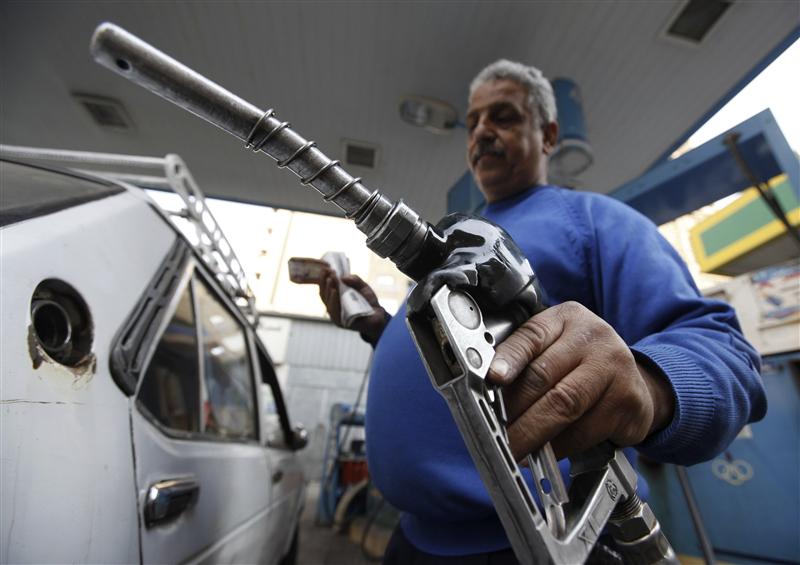 A worker fuels a car in Cairo - Reuters
CAIRO, Mar 30 (Aswat Masriya) - Egypt's ministries of finance and petroleum reported a sum of petroleum subsidies worth 44.773 billion Egyptian pounds ($5.9 billion) from the state budget during the first half of the fiscal year 2014/2015.
The country's fuel subsidy bill for the same time last year stood at 64.5 billion pounds, reported Reuters.
The government allocated 100 billion pounds (around 14 billion U.S. dollars) for oil subsidies in the state budget for the current fiscal year 2014/2015.
Egypt's government has already reduced petroleum subsidies and introduced new taxes in July 2014, hiking fuel prices by up to 78 percent.
Almost one-fifth of Egypt's state spending goes to energy products' subsidies. The state has launched a plan to rid it completely of energy subsidies within three to five years.
Petroleum Minister Sherif Ismail had expected last December a 30-percent decrease in oil subsidies in the second half of the fiscal year, due to a drop in oil prices ongoing since July 2014.
Oil prices dramatically dropped worldwide during the past nine months, reaching their lowest level in years, with no sign from the Organisation of the Petroleum Exporting Countries, the provider of around one-third of the world's oil, to slow production in an effort to push up prices.
($1 = 7.63 Egyptian pounds)