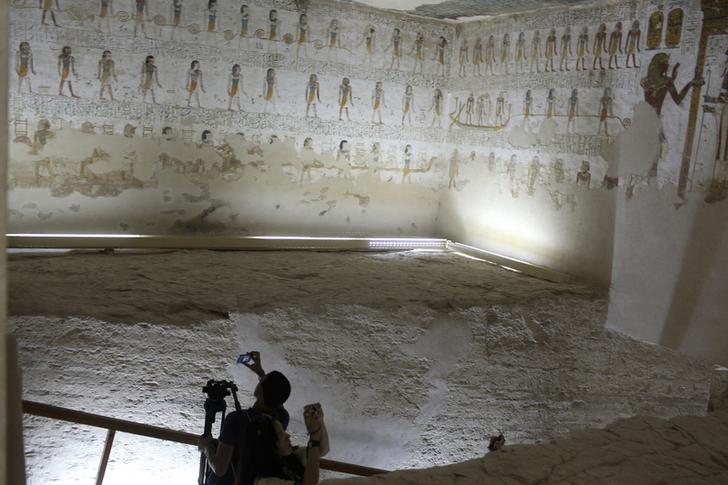 Tourists take pictures of paintings on the walls of the tomb of King Merenptah in the Valley of the Kings in Luxor November 22, 2012. REUTERS/Asmaa Waguih
Cairo, Dec 31 (Aswat Masriya)–The archaeological statue of Amenhotep III, the ninth pharaoh of the eighteenth dynasty, was found in a home in the village of al-Nakhel in the Aswan governorate, minister of antiquities Mamdooh el-Damaty announced Thursday.
Damaty added in a statement to the state-owned MENA news agency that Public Prosecution has previously said that they had found the statue during a raid on a drug and weapons dealer's house.
An antiquities committee which was formed shortly afterwards to look into the status of the pharaonic piece, confirmed the statue's antiquity.
The head of the Aswan antiquities directorate, Nasr Salama, said that the statue is made of black granite, and is in well-preserved condition. It stands at 150 cm long and represents the king, Amenhotep III, standing wearing a short kilt and the head of an animal as is traditionally the case for ancient Egyptian rulers.
Salama added that the statue holds important information, representing the names of the king and his titles.
The minister stated that the statue has been transferred to the Edfo museum storage temporarily before the process of restoration and maintenance.
Egypt's ministry of antiquities has been under financial strains and is running a "huge deficit", Damaty announced last october in a Kafr El-Sheikh conference.
The ministry lost 90 percent of its financial resources, which has in turn stalled renovation projects and the building of new museums, he added.
Al-Damati also said that the ministry's budget fell from EGP 1.3 billion to EGP 125 million and that it relies entirely on self-financing through four projects for funding.
Last May, Cairo hosted a cultural heritage conference aimed at launching a working group to preserve archeological property against looting and trafficking.
Egypt has also invested in preserving cultural heritage in light of a looting campaign the country has faced since a popular uprising in 2011 prompted political turmoil.
Egypt's Museum of Islamic Art was badly damaged by an explosion which rocked the capital in January 2014, killing four people and destroying several artifacts kept in the museum.
The Malawi National Museum, in the Upper Egyptian city of Minya, was broken into and looted in August 2013, amid a wave of nationwide violence which followed the deadly dispersal of two sit-ins set up in support of ousted Islamist President Mohamed Mursi.