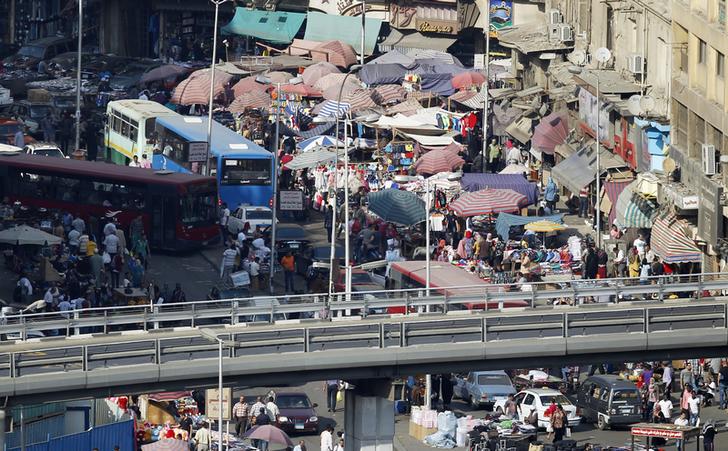 People are seen at a market amidst a traffic jam in downtown Cairo May 22, 2014. Days before a presidential election he seems certain to win, Abdel Fattah al-Sisi released a detailed, colour-coded rendering of "The Map of the Future", designed to reassure Egyptians he is serious about attracting investment in their battered economy. REUTERS/Amr Abdallah Dalsh
CAIRO, Jan 22 (Reuters) - Egypt's economy is set to grow by 3.5 percent this fiscal year, according to economists polled by Reuters who raised their forecasts based on a stronger set of recent growth data and improving business confidence.
The forecast is in line with the government's target for the 2014/15 fiscal year that began in July and would represent a modest rebound for Egypt, which has struggled to restore growth during four years of political turmoil.
The 2011 uprising that toppled Hosni Mubarak hit the economy hard, discouraging investors and tourists and slashing growth to below 2 percent in 2010/11.
Real GDP growth in the fiscal year 2009/2010 was 5.1 percent.
However, Egypt has received billions of dollars in aid from Gulf states since ex-army chief Abdel Fattah al-Sisi ousted president Mohamed Mursi of the Muslim Brotherhood in July 2013.
The aid has kept the economy afloat as the government introduces reforms, seeking to balance between restoring growth, controlling inflation and curbing its budget deficit.
In July, Egypt slashed energy subsidies that have long weighed on state finances, causing price rises but signalling that the government was ready to take tough decisions.
The consensus of 13 economists polled by Reuters in the past two weeks was for economic growth of 3.5 percent in the fiscal year ending June 2015 - slightly above the 3.3 percent forecast in a poll published in October.
Egypt's gross domestic product (GDP) grew 2.2 percent in 2013/14, up only slightly from 2.1 percent the previous year and not sufficient to create enough jobs for a rapidly expanding population of 87 million. It reached 6.8 percent in the second quarter of this fiscal year, according to the central bank.
Egypt is targeting growth of 4 to 5.8 percent over the next three years, according to the finance minister.
That target largely exceeds analysts' expectations that growth would accelerate to just under 4 percent in the next fiscal year.
While growth is forecast to rise, analysts revised down their expectations of inflation, boding well for the economy.
Though subsidy reform raised inflation in the first half of 2014/15, falling global oil prices are expected to reduce pressure on the budget and inflation in Egypt, an importer of wheat, oil and many consumer goods.
The central bank cited falling oil prices in its decision to cut interest rates by 50 basis points last week.
Analysts cut their inflation forecasts for this financial year to 10.4 percent from 11.8 percent in the previous poll. They predicted inflation would ease to 9.2 percent in 2015/16.
Urban consumer inflation rose to 10.1 percent in December from 9.1 percent the month before. Core inflation fell to 7.69 percent in December. (Polling by Sarbani Haldar and Hari Kishan, Writing by Lin Noueihed; Editing by Toby Chopra)