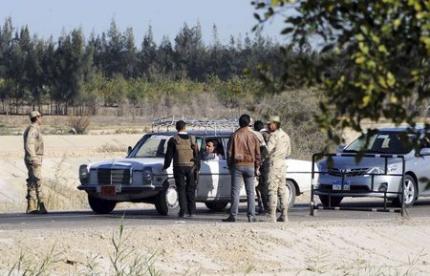 Egyptian security personnel check cars at a checkpoint near the site, where separate attacks on security forces in North Sinai on Thursday killed 30 people, in Arish, North Sinai, Egypt, January 31, 2015. REUTERS/Stringer
CAIRO, May 8 (Aswat Masriya) - Sixteen suspected Ansar Bayt al-Maqdis militants were killed in two military operations in North Sinai's Arish city on Friday, army sources said.
Five of the suspected militants were killed and three others were injured in an army operation east of Arish. The second operation, undertaken south of Arish, has seen 11 more suspected Ansar militants killed, and three others arrested.
The militants in question fired three mortar shells on a security focal point in Karm al-Qawadis area South of Sheikh Zuweid, the sources said, but the mortars missed their target. One conscript suffered shrapnel wounds in the attack.
Militancy inside Egypt has seen a significant rise since July 2013, with most attacks targeting security forces in North Sinai.
In November 2014, Ansar pledged allegiance to the leader of the Islamic State fighters in Iraq and Syria, after Islamic State fighters gained control over large areas of Iraq and Syria over the summer of 2014.
Ansar has claimed responsibility for numerous attacks on Egyptian security forces, both before and after it affiliated itself with Islamic State fighters.