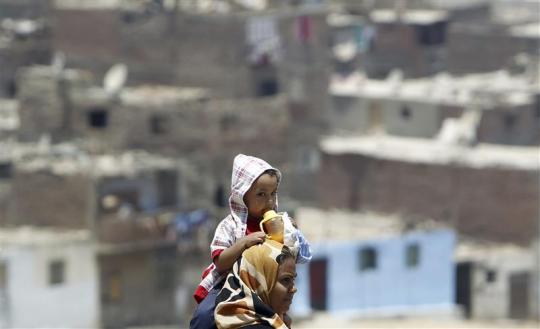 A woman carries her daughter in Mansheyet Naser - Amr Dalsh/Reuters
CAIRO, Feb 20 (Reuters) - Egypt, the world's biggest importer of wheat, said it has enough stocks of wheat to last 101 days and it expects its supply to increase further as more imports arrive, a cabinet statement said on Wednesday.
"The current reserves of wheat (local and imported) has reached 2.467 million tonnes which are sufficient for 101 days, until May 29," the statement said.
"The international contracts for imported wheat reached 643,000 tonnes, raising the total amount of current contracts to 3.110 million tonnes, enough for 126 days, to June 24," it said.
The Egyptian state's main wheat buying agency, the General Authority for Supply Commodities (GASC), on Tuesday set a tender to buy an unspecified amount of wheat from global suppliers for April 10-20 shipment. (Reporting by Asma Alsharif; editing by David Stamp)