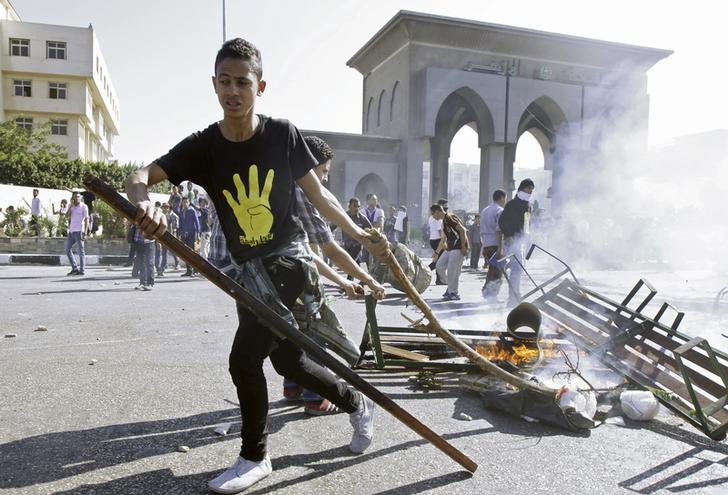 Clashes at al-Azhar University between students and security forces in Cairo on October 20, 2013. Reuters
Egypt's Al-Azhar University is to be put under the dominance of police forces for security reasons ahead of protests called by the Salafist Front for 28 November, Al-Ahram Arabic news website reported.
Al-Azhar University's board decided late Wednesday to allow police forces to secure university campuses starting Thursday morning until late Saturday.
Head of Al-Azhar University, Abdel Hay Azab, has discussed with head of the Cairo Security Directorate Yehia Al-Iraqi means to secure the university's campuses from both inside and outside.
The Salafist Front has called for "a Muslim youth uprising" this Friday across Egypt in order to "impose Islamic identity without disguise."
The front announced it will demand the imposition of Sharia, or Islamic law, and the reinstatement of former president Mohamed Morsi.
Since the Salafist Front's call for protests, many members of the front have been arrested. The Muslim Brotherhood, designated a terrorist group in December 2013, announced its support for Friday's protests.
In contrast, Egyptian Salafist groups like Al-Nour Party and Al-Daawa Al-Salafiyya movement rejected calls for protests Friday.
Al-Nour started a campaign under the slogan "Egypt without violence" in response to the protest calls. Younes Makhioun, president of the party, said in a public conference Monday that calls for violence are Egypt's most dangerous challenges.
Meanwhile, rapid deployment divisions of Egyptian security forces will be intensifying their presence all over Egypt in response to calls for protests, according to official statements by the interior ministry and the military.
Al-Azhar University has been the scene of violence and clashes between students supporters of the ousted Islamist president and security forces. Since the beginning of the academic year in October, dozens of pro-Morsi students have been arrested.