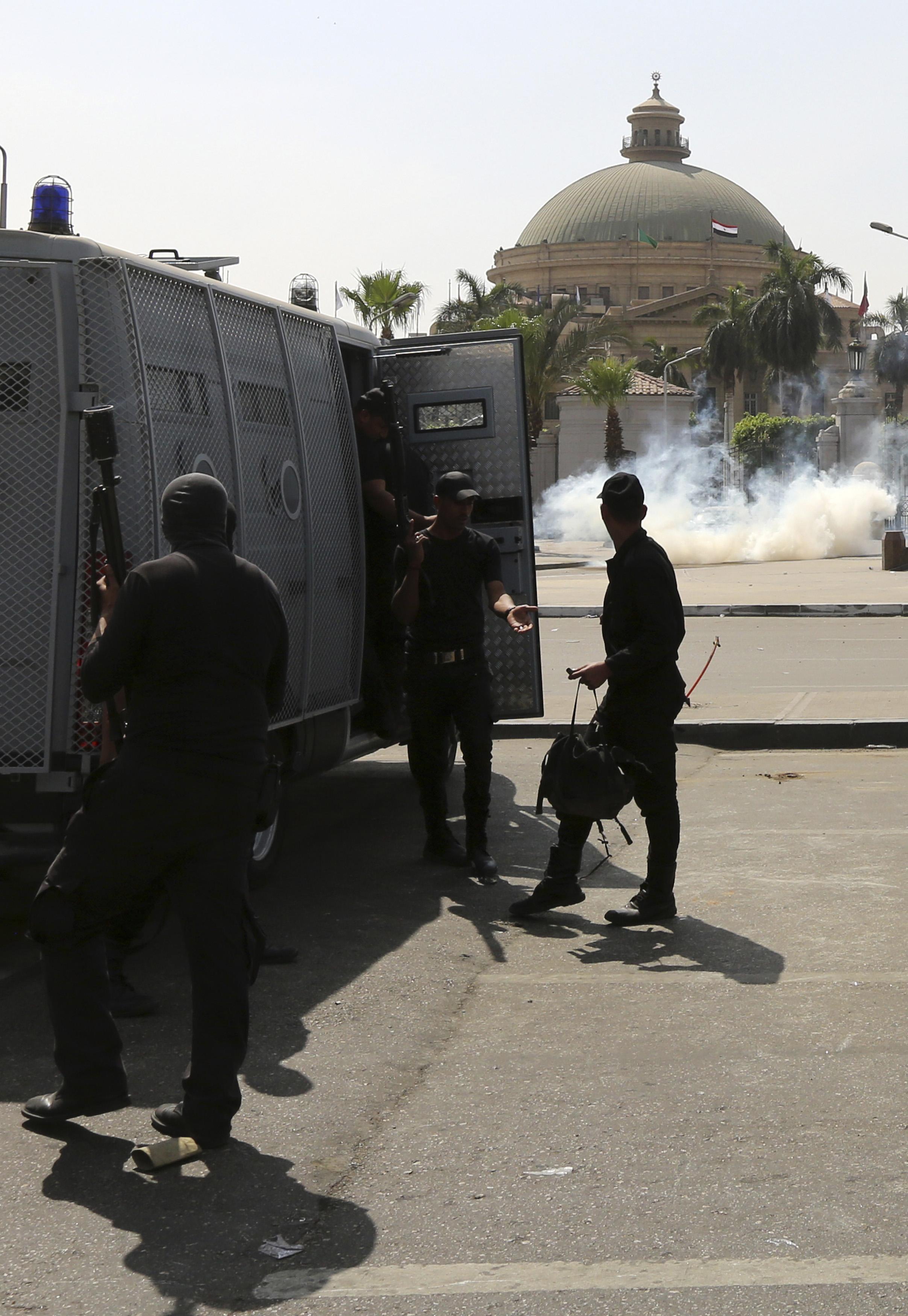 Riot police officers take positions as teargas is fired during a protest by supporters of the Muslim Brotherhood at the front of Cairo University in Cairo April 14, 2014. REUTERS/Mohamed Abd El Ghany
ZAGAZIG, Nov 8 (Aswat Masriya) – The Zagazig Criminal Court sentenced on Saturday four university students, among them the nephew of ousted Islamist President Mohamed Mursi, to life in prison for attempted murder.
Mohamed Saeed, nephew of the ousted president, is a law student at the University of Zagazig in Sharqiya.
He was accused alongside the three other students of physically attacking a colleague during a pro-Mursi student protest in the University of Zagazig which turned violent last December, reported state-run news agency MENA.
Saeed was suspended from the university for a year in May for being wanted for five different court cases. He was also charged with the attempted murder of the dean of the university's faculty of pharmacy.
The Zagazig Criminal Court sentenced Saeed to five years in prison in July for inciting on-campus violence and riots.
The Muslim Brotherhood has come under attack since the military ouster of its leader Mursi from the presidency in July 2013 following mass protests against his rule. The military-installed regime has since then rounded up thousands of Brotherhood members and supporters and killed hundreds of protesters in confrontations with security forces.
University campuses have witnessed unprecedented violence throughout the past academic year, with at least 16 students killed amid on-campus protests, according to the Association for Freedom of Thought and Expression's Student Observatory.
The pro-Mursi "Students against the coup" movement has been organising protests against the former Islamist president's military ouster throughout the past academic year. Protests have often devolved into clashes with security forces.