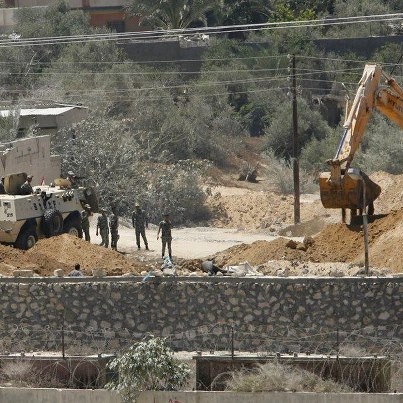 (Archive) Army forces supervise the process of demolishing tunnels in North Sinai - Aswat Masriya
CAIRO, Feb 13 (Aswat Masriya) - Eight suspected militants were killed on Friday in military air strikes over North Sinai's border town of Rafah, a source at North Sinai security directorate said.
One of the suspected militants belonged to the Sinai-based militant group Ansar Bayt al-Maqdis, the source added. He was involved in "terrorist" operations in Rafah over the past two years.
Apaches targeted his house where he was planning an attack against security forces with others, after security forces were tipped off to his location, the source said.
Militancy has surged in Egypt since July 2013, with the Sinai Peninsula being the most heavily affected part of the country, although attacks have taken place in other parts including Cairo.
At least 30 people were killed and 50 others were injured on January 29 in four separate attacks against security installations in the governorate.
The attack is the deadliest since a similar attack on the Peninsula last October. At least 30 military personnel were killed in a suicide operation which targeted a security checkpoint in Sinai's Sheikh Zuweid on October 24, 2014.
Ansar Bayt al-Maqdis claimed responsibility for the January attack, as well as October's attack. The group changed its name to Sinai Province after pledging allegiance to Islamic State fighters in Syria and Iraq last November.