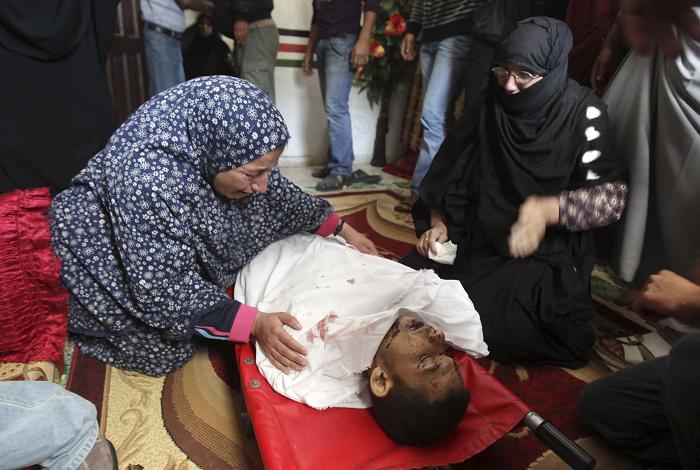 A Palestinian relative of Hamas militant Wael al-Ghalban mourns next to his body during his funeral in Khan Younis in the southern Gaza Strip November 15, 2012.REUTERS/Ibraheem Abu Mustafa
A protest is scheduled to take place Sunday at 6pm in front of the Arab League headquarters in Cairo near Tahrir Square to express solidarity with Palestinian prisoners on hunger strike and to denounce the "unjust practices" of the Israeli occupation.
The invitation comes after Palestinian prisoner Arafat Jaradat, who was arrested last Monday, died in an Israeli jail Saturday, reportedly of cardiac arrest.

Jaradat was arrested for allegedly being involved in stone-throwing. Palestinian Minister for Prisoner Affairs Issa Qaraqaa told AFP Saturday that Jaradat was killed during investigations by Israeli forces.

A modest protest was held in solidarity with prisoners Saturday near Giza Zoo, where the Israeli embassy was once located before it was ransacked in September 2011 by protesters. Israeli diplomats until now have no stable headquarters in Cairo.

The ongoing hunger strikes have brought the Israeli regime much international condemnation for its practice of administrative detention, or detention without charge or trial.

According to Addameer, a Palestinian NGO concerned with prisoners' rights, the number of Palestinians held in Israeli prisons reached 4,743 in February, including 178 in administrative detention.