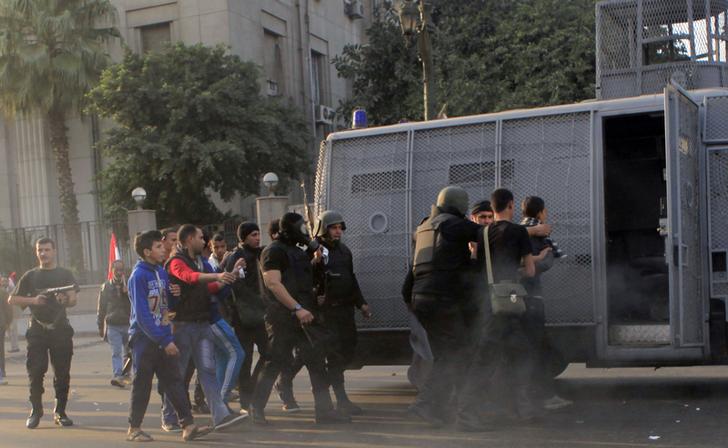 Riot police arrest anti-government protesters during clashes at Ramsis street in downtown Cairo, January 25, 2014. REUTERS/Amr Abdallah Dalsh
CAIRO, May 25 (Aswat Masriya) More than 41,000 people have been arrested in Egypt since July 2013, said a recent report by Wiki Thawra, an independent statistical database created by the Egyptian Center for Economic and Social Rights.
"A total of 41,163 people were arrested from July 3, 2013, to May 15, 2014, under Defense Minister Abdel Fattah al-Sisi and President Adli Mansour," said the report published on Wiki Thawra's website.
Egypt's army ousted Islamist President Mohamed Mursi on July 3 last year after mass protests against his rule, and announced a roadmap for a transitional phase until new presidential elections are held.

The report is exclusive to arrests moved by the "political or sectarian backgrounds of people, social or workers' protesting, terrorist acts or military trials for civilians."

Wiki Thawra is an initiative to document all those killed, wounded and arrested since the January uprising.