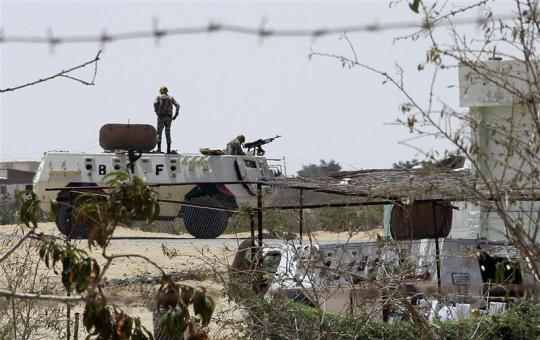 A security checkpoint in Rafah on the borders, August 2012 - Reuters
CAIRO, Jan 6 (Aswat Masriya) – Egypt's armed forces killed 11 "terrorists" during raids in the Sinai Peninsula from Saturday to Monday, the armed forces spokesman said on Tuesday.
Spokesman Mohamed Samir said in a statement that two "terrorists" were killed in the city of al-Arish, eight in Sheikh Zuweid and one in Rafah. All were killed in cross fire with army forces.
Three more "terrorists" were killed in confrontation with army forces after attempting to "ambush" citizens at the intersection of the ring road with an international road, Samir said.
Army forces also arrested seven wanted individuals and 29 suspects.
Egyptian authorities have intensified security measures in the Sinai Peninsula in reaction to proliferating militant attacks there, particularly since the army's ouster of Islamist President Mohamed Mursi in July 2013, which followed mass protests against his rule.
At least 30 military personnel were killed in a suicide blast which targeted a security checkpoint in Sinai's Sheikh Zuweid on October 24, in the worst militant attack since Mursi's ouster.
Egypt's most dangerous militant group, the Sinai-based Ansar Bayt al-Maqdis, claimed responsibility for the attack in a video released on November 14, shortly after pledging allegiance to the leader of the Islamic State fighters in Iraq and Syria.
President Abdel Fattah al-Sisi declared a three-month state of emergency and a nighttime curfew in parts of the Sinai Peninsula in response to the attack.