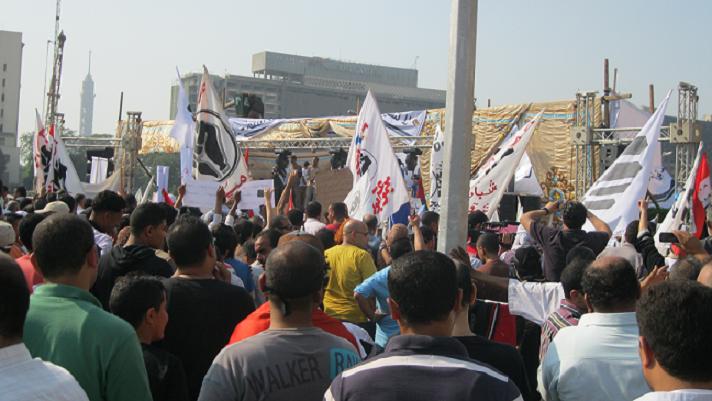 Liberals protesting against the Muslim Brotherhood - Fares Hamdan/Aswat Masriya
The Ministry of Interior said protesters should practice self-restraint to not further increase instability and violence in Egypt, a day before planned Friday protests by opposition activists and groups at the Muslim Brotherhood's headquarters in Moqattam district of Cairo.
The ministry called on all political currents planning to take part in Friday protests to "listen to the voice of reason, stick to peaceful principles and avoid getting involved in any violent acts which threaten the well-being of Egypt's citizens."
"We will stand at the same distance from all political currents and forces," the ministry said in an official media statement Thursday. Moreover, it stressed its responsibility in ensuring the security of its citizens and the protection of public property, as stipulated in the constitution.
The ministry further encouraged all Egyptians to abide by democratic mechanisms to express their opinion and to renounce violence.
Meanwhile, Muslim Brotherhood lawyer Abdel Moneim Abdel-Maqsoud filed reports to Egypt's public prosecutor and interior ministry on Thursday against opposition groups and activists who have called for Friday's protests.
In his complaints, Abdel-Maqsoud has accused some 14 political parties, movements and public figures of inciting violence outside the Islamist group's headquarters in the district of Mokattam last Saturday.
Abdel-Maqsoud, nevertheless, asserted that he "respects freedom of expression only if it does not undermine national security or endanger private and public property."
"Allegations and grounds that have prompted such calls are unfounded," Abdel-Maqsoud asserted in a press statement issued on Thursday. "The [Muslim Brotherhood] group exercises utmost self-restraint and does not allow any of its members to be part of such rioting."
On Tuesday, he said his group was conducting an internal investigation into the weekend events, and will announce to the public the investigation's findings, adding that the group "will not hesitate" to take legal action against any of its young members should they have committed violations.
He also slammed the 'fierce attacks' the Islamist group and its buildings have been subjected to, at a time where the Brotherhood is extending an invitation for a national dialogue with the whole political spectrum.
In a separate press conference held by the Brotherhood on Thursday, Secretary General Mahmoud Hussein stated the group has the right to protect its offices against attacks by protesters, if the police do not carry out their responsibilities.
Activists and opposition groups have called for a demonstration in front of the Brotherhood Cairo headquarters on Friday to protest what they describe as 'attacks' by Brotherhood members and security forces on opposition activists.
Dubbed the 'Friday of Restoring Dignity,' the call was prompted after Muslim Brotherhood members and guards attacked a group of anti-Brotherhood protesters and graffiti artists outside the Islamist group's headquarters on Saturday. Police repeatedly sought to disperse the crowds with teargas.
Subsequent clashes erupted Sunday when police used force to disperse a hundred strong protest by activists, who had gathered in front of the headquarters to protest the Brotherhood's "assault" on Saturday.
The groups which have responded to the call for protest include the Free Egyptians Party, the Egyptian Social Democratic Party and the Constitution Party, the main partisan constituents of Egypt's umbrella opposition group the National Salvation Front.