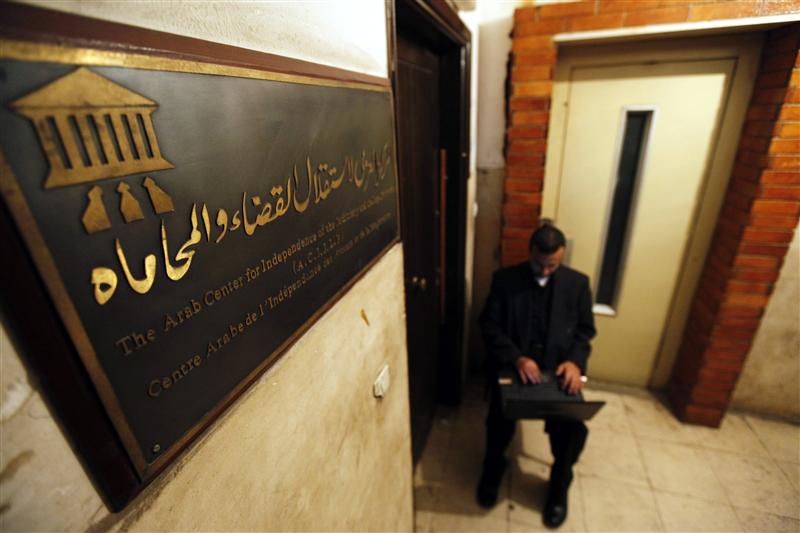 Rights activist works outside his raided office - photo from Reuters
Leading rights' advocates Wael Khalil and Ahmed Seif El-Islam resigned from the Egyptian National Council of Human Rights Monday in protest of President Mohamed Morsi's "disastrous" Constitutional Declaration and the recently drafted Constitution.
Khalil, a leftist activist and Seif El-Islam, a human rights lawyer, became members of the council following last September's reshuffle by the president that saw 27 new members appointed.

They released a joint statement Monday stressing that their decision came after witnessing several human rights violations in the political arena.

"We are worried about recent developments ever since President Morsi's disastrous constitutional decree," the statement read.

The duo pointed to the problems of the beleaguered Constituent Assembly, tasked with drafting Egypt's new constitution, in particular the withdrawal of the Egyptian Church representatives.

They also accused Morsi of threatening the independence of the judiciary by making his decisions immune to judicial review.

"He stripped the judiciary of its independence when it comes to the decisions of the president which the constitutional decree now protects," the duo said in the statement.

They also accused of Morsi of using the Constituent Assembly as a "tool", which shows the "dictatorial orientation of his regime."
According to Khalil and Seif El-Islam, the president's decree gave the assembly a two-month extension to finalise the national charter.
"This time was supposed to be used to open a serious debate to help reach a consensus over the new constitution and help establish a democratic nation," they said. "However, what we saw was an unjustified rush to finalise the document and present it to the president on 2 December."

The recently finalised draft national charter has many articles that violate human rights, the statement continued.

These include articles that allow civilians to be tried by military courts, a contentious practice illegal under International Law and the subject of many revolutionary campaigns.

The constitution also fails to guarantee judicial independence, they said.

Khalil and Seif El-Islam added that they joined the NCHR because they believed the move would help them fight human rights abuses, like torture and civilians tried by military judges.

"However, we now have fears that the Muslim Brotherhood will violate controversial rights like the right to freedom of expression, freedom of faith, freedom of thought as well as the rights of women and minorities," they said.