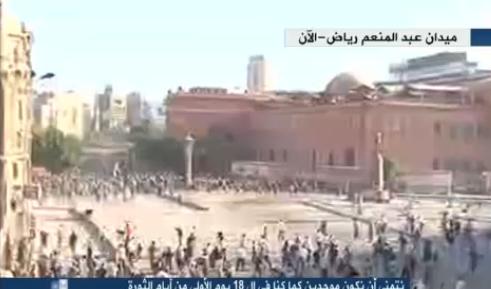 Clashes between supporters and opponents of the Muslim Brotherhood in Abdel Moneim Riad Square on April 19, 2013 - Photo via al-Jazeera Mubasher Misr
The Muslim Brotherhood's Freedom and Justice Party and several Islamist parties will postpone a million-man demonstration which was planned for Friday April 26.
The demonstration was intended to be the sequel to last Friday's protest demanding the purging of the judiciary.
We decided to postpone tomorrow's demonstration to provide a calm atmosphere for discussing the judicial authority law, the parties said.
They emphasised the importance of applying justice to ensure the reformation of all state institutions.
The parties also stressed the need for working on empowering the youth to help them effectively participate in running the country during this critical phase.
On the other hand, the Muslim Brotherhood said it did not call on its supporters to rally or demonstrate on Friday.