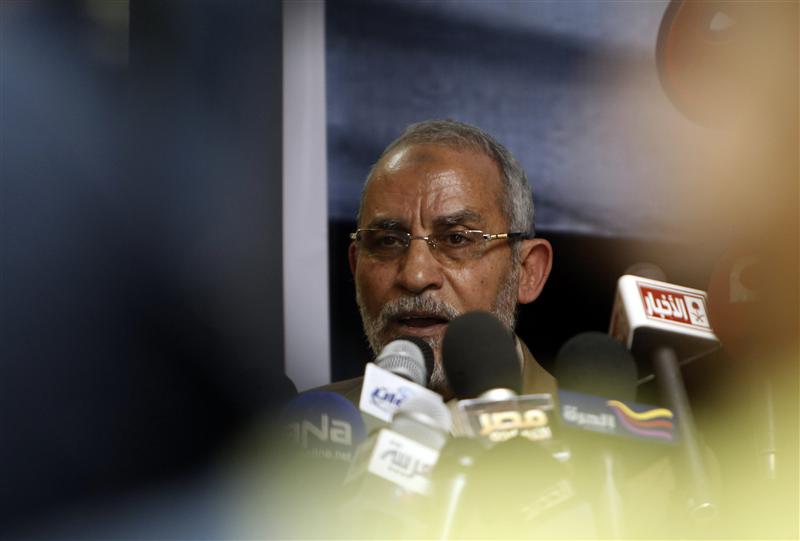 Spiritual Guide of the Muslim Brotherhood Mohamed Badie - Reuters
The Muslim Brotherhood's supreme guide Mohamed Badie said on Thursday that divisions only serve the "enemies of the nation" referring to confrontations that have erupted between supporters and opponents of President Mohamed Mursi.

In a statement on the Brotherhood's Facebook page, Badie called for unity and putting national interest above personal interest.

Political turmoil erupted when Mursi issued a constitutional decree on November 22 shielding his decisions from judicial challenges and escalated as he called for a December 15 referendum on a draft constitution written by an Islamist-dominated assembly.

Thousands of Egyptians marched to the presidential palace on Tuesday to express their outage with the president's decree and the controversial draft charter.

In response, the Brotherhood called on its, and Mursi's, supporters to head to the presidential palace on Wednesday to teach opposition forces that they cannot "shake legitimacy or forcibly impose their views."

Thousands of Mursi supporters headed to the palace on Wednesday afternoon, forced out opponents, taking down their tents and ultimately ending their sit-in.

Five people were killed and more than 400 were injured in scuffles that began on Wednesday evening and continued until the early hours of Thursday by Egypt's presidential palace where the army has now deployed tanks.