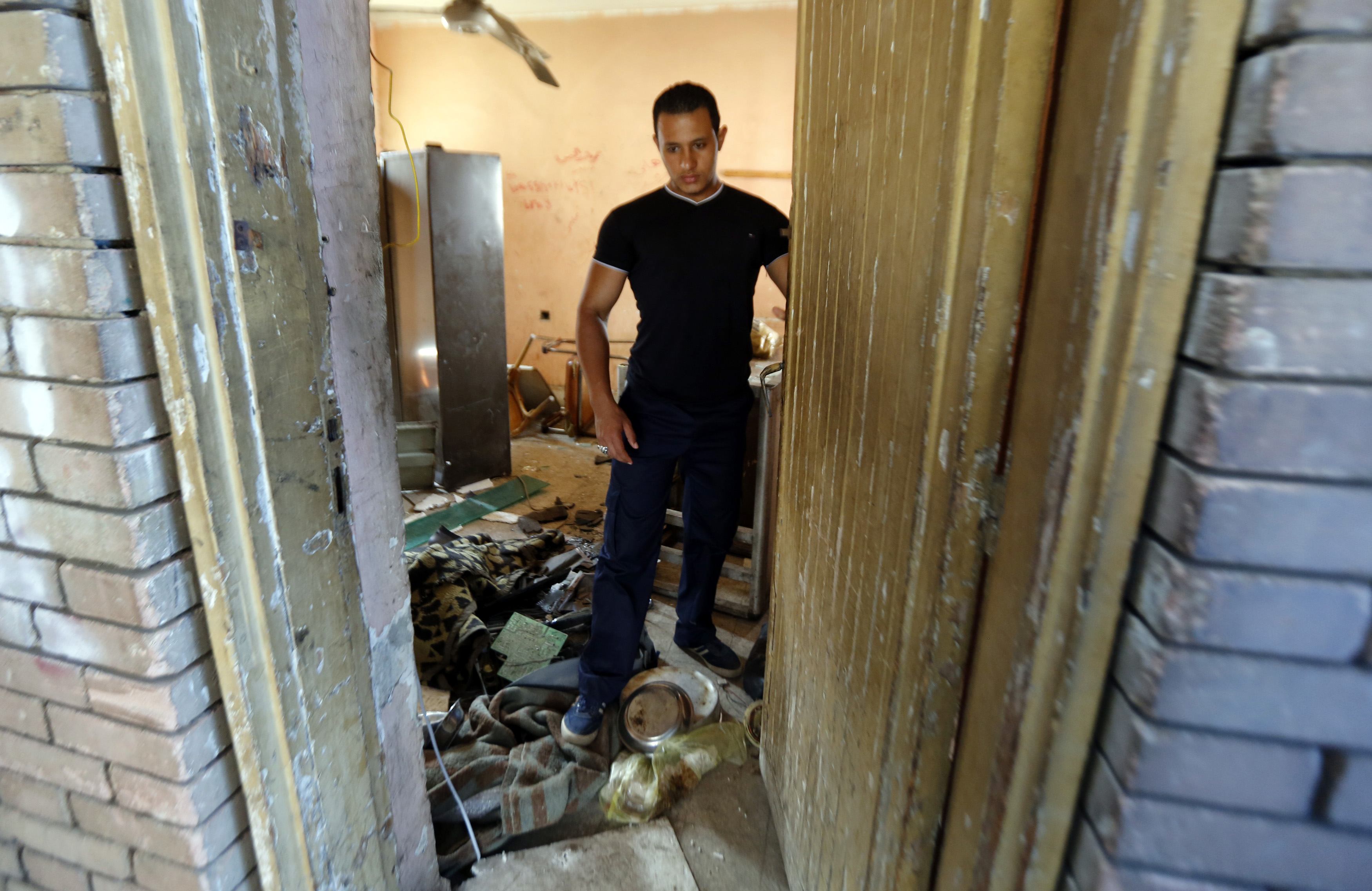 A member of Falcon, a private security company, conduct a search at a security office which was damaged during clashes between students, security personnel and demonstrators from a pro-Muslim Brotherhood movement known as the Students Against the Coup, at a gate of Al-Azhar University in Nasr City district October 12, 2014. REUTERS/Amr Abdallah Dalsh
CAIRO, Oct 13 (Aswat Masriya) – A private security company hired by the ministry of higher education to secure a group of universities lost 30 thousand Egyptian pounds during the first two days of the academic year, the company's CEO said.
Sherif Khaled, the CEO of Falcon Security Services, told Aswat Masriya in a phone interview that the losses involved the damage of two electronic gates at al-Azhar University and a crack in a third gate at Cairo University.
Minister of Higher Education Sayed Abdel Khalek hired the private security company on September 24 to guard 12 public universities during the coming academic year. Strict security measures adopted by Falcon at the university gates nevertheless triggered violence from the students, who became frustrated with their delayed entrance into campus.
Khaled said the company will increase the number of gates with metal detectors to decrease the queues at the gates. Four new gates will be added to Cairo University, four to Azhar University, three to Ain Shams University and three to the University of Alexandria, he said.
"We will continue to secure Egyptian universities," Khaled said. "We will not retreat from our mission, outlined in the agreement we signed with the ministry of higher education."
Students reported on Sunday that Falcon security personnel fled the scene of violence outside university campuses, leaving the gates unattended to. Falcon repeatedly denied withdrawing from universities.
An eyewitness told Aswat Masriya that clashes between students and Falcon personnel at the University of Alexandria saw the damage of electronic gates and the flight of the security personnel from the scene on Monday.
University campuses have witnessed unprecedented violence throughout the past academic year, with at least 16 students killed amid on-campus protests, according to the Association for Freedom of Thought and Expression's Student Observatory.
The pro-Mohamed Mursi "Students against the coup" movement has been organising protests against the former Islamist president's military ouster throughout the past academic year. Protests have often devolved into clashes with security forces.
Before the start of the academic year on Saturday, the cabinet discussed measures to be adopted during the year to quell any possible tension.
(Reporting by Viola Fahmy)