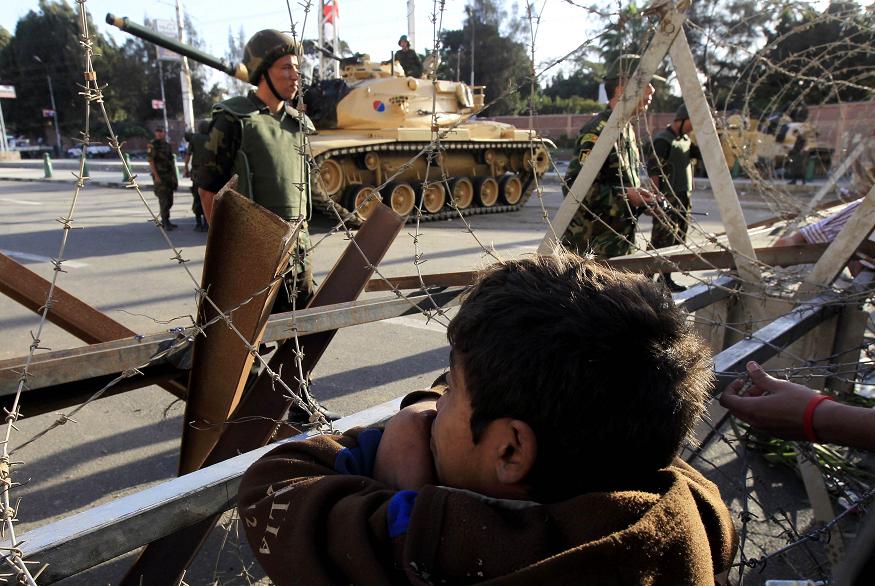 A boy standing behind a barbed wire barricade looks at members of the Republican Guard who have closed a road leading to the presidential palace in Cairo, December 6, 2012.REUTERS/Mohamed Abd El Ghany
Egypt's National Council for Childhood and Motherhood (NCCM) urged families on Sunday to keep their children away from clashes and not expose them to the risk of injury or death.
"The mere presence of children in clashes is adverse to their most basic rights which are provided by the law and international conventions", said the Council in a statement it issued.
It asked non-governmental organizations (NGOs) which work in the field of child care and protection to do their part in protecting children and raising their awareness of shielding themselves and preserving public and private facilities.
The statement urged children not to participate in acts of vandalism and called on political forces and parties to shoulder their responsibility towards children.
Appealing to political forces not to involve children in these events and protect them from being exposed to the use of bladed weapons during clashes and the risk of being arrested.
According to article 126 of Child Law, children are entailed to protection from all forms of exploitation, and a child is considered at risk if subjected to inciting violence.
It stressed on the importance of the media's role in raising awareness of the value of protecting children and human rights.
The Council considered stopping child participation in any confrontations or demonstrations a national cause, saying that all governmental, civil and legislative efforts should be exerted.
The Council asked citizens to use the hotline for child support (16000) to report any violations the children are exposed to during the events.