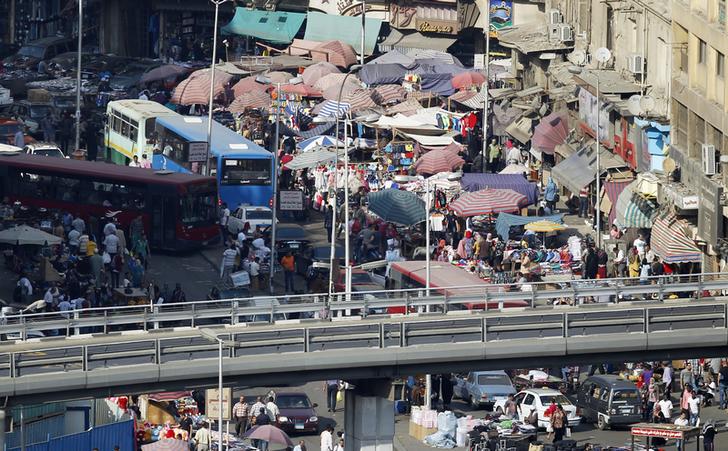 People are seen at a market amidst a traffic jam in downtown Cairo May 22, 2014. Days before a presidential election he seems certain to win, Abdel Fattah al-Sisi released a detailed, colour-coded rendering of "The Map of the Future", designed to reassure Egyptians he is serious about attracting investment in their battered economy. REUTERS/Amr Abdallah Dalsh
By Stephen Kalin
CAIRO, April 29 (Reuters) - Egypt's economic growth is set to accelerate in the next two years, reaching 5.5 percent in fiscal 2016/17, a Reuters poll forecast on Wednesday.
After struggling to restore growth during more than four years of political upheaval, the Egyptian economy is showing signs of a revival.
The poll showed economists had lifted their growth forecasts for the current fiscal year ending in June to 4.2 percent -- in line with the government's target and up from 3.5 percent in a similar poll in January -- after the economy grew by more than 5 percent in the first half.
The outlook should continue to improve although not by as much as the government hopes, at least in the near term. President Abdel Fattah al-Sisi told an investment summit in March that Egypt is targeting economic growth of 6 percent over the next five years.
The poll forecasts growth of 4.5 percent in fiscal 2015/2016 and 5.5 percent in 2016/17.
"We expect the economy to grow at about 4.5-5 percent over the next three years, which is just enough to keep the unemployment rate steady but not enough to make a big dent in it," said Jason Tuvey at Capital Economics in London.
Before the 2011 uprising, the economy grew at about 7 percent annually for several years. But even that pace was barely enough to produce work for the large number of Egyptian youths entering the job market.
The uprising, which toppled Hosni Mubarak, hit the economy hard, discouraging investors and tourists and slashing growth to below 2 percent in 2010/11 from 5.1 percent the previous year. Unemployment has risen to about 13 percent.
However, billions of dollars in aid from Gulf states have kept the economy afloat in the past two years as the government seeks to balance restoring growth, controlling inflation and curbing a swelling budget deficit.
Egypt's economy grew 2.2 percent in fiscal 2013/14.
Analysts polled also raised their inflation forecasts for this financial year to 10.8 percent from 10.4 percent in the previous poll. It is then expected to slow to 10.0 percent in 2015/16.
Price pressures eased in November but have crept back up since, in part due to a weaker Egyptian pound.
Urban consumer inflation rose to 11.5 percent in March and core inflation ticked up to 7.21 percent.
Inflation rose after the government slashed energy subsidies in July to help reduce its fiscal deficit. The central bank subsequently raised its benchmark rates by 100 basis points but then unexpectedly cut them by 50 basis points in January.
"Headline inflation should come in below 10 percent in the second half of the (calendar) year when the effect of last year's subsidy cuts falls off the price comparison," Tuvey said.
"That should give the central bank the space it needs to cut interest rates," he said.
Poll respondents expect the central bank to cut its overnight lending rate by 50 basis points this fiscal year and by another 25 basis points in the year after, to 9 percent.
The Egyptian pound is forecast to weaken slightly more this fiscal year to 7.65 pounds per dollar from 7.53 currently, stabilising at around 8 pounds per dollar the following year, poll respondents said.
(Polling by Sarmista Sen; Additional Reporting by Shadi Bushra; Editing by Yara Bayoumy and Susan Fenton)