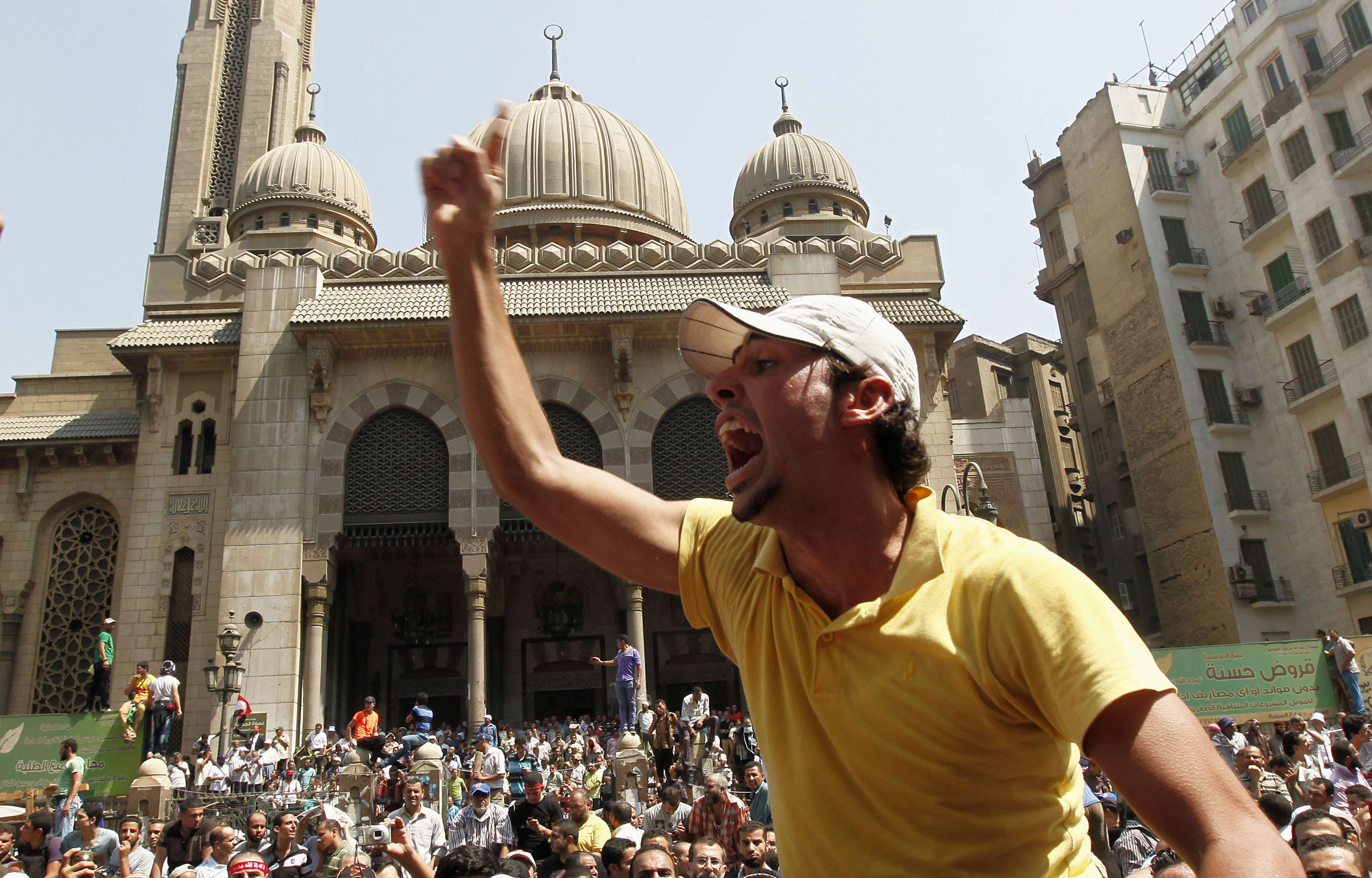 Supporters of ousted Egyptian President Mohamed Mursi shout slogans during a protest outside Al-Fath Mosque in Ramsis square in Cairo August 16, 2013. REUTERS/Mohamed Abd El Ghany
CAIRO, Dec. 15 (Aswat Masriya) - The defence team in a mass trial of 494 people brought to court because of violence dating back to 2013 withdrew from the session in objection to the continued detention of their defendants.
The defence team said it objected to the court's lack of adherence to Article 143 of the code of criminal procedures, which states the court must release defendants once they complete a maximum period in preventive detention, which varies depending on the nature of the crime.
The maximum period, according to Article 143 cannot exceed a third of the maximum penalty that the defendants may be sentenced to.
In response to their withdrawal, Cairo's criminal court postponed the trial to Dec. 19.
On Aug. 16 - 17, 2013 deadly clashes broke out when security forces surrounded the famous Fath Mosque in Cairo's Ramses neighbourhood, with supporters of former president Mohamed Mursi inside.
At the time, Mursi had been recently militarily ousted after mass protests against his rule.
Hundreds of his supporters were arrested in violence surrounding the Fath Mosque and charged with desecrating the mosque, vandalising it and disrupting prayers inside. They also face murder, attempted murder, assembly charges, among a longer list of other charges.
The defendnats on trial include Irish-Egyptian citizen Ibrahim Halawa who was visiting Egypt in the summer of 2013 along with his family, when he and his sisters decided to partake in what they expected to be peaceful protests.
Going into prison as a teenager who was about to start college, Ibrahim turned 20 in prison two days ago, according to an Al Jazeera report, after spending nearly 850 days in detention.
Rights defenders in Egypt say pre-trial and preventative detention is being used as a tool to punish detainees. This was most recently highlighted in a press conference on Thursday on detention conditions in Egypt.
Head of the freedoms committee at the press sydnicate Khaled al-Balshi stressed that the extension of pre-trial detention has become a "harsh detention tool."