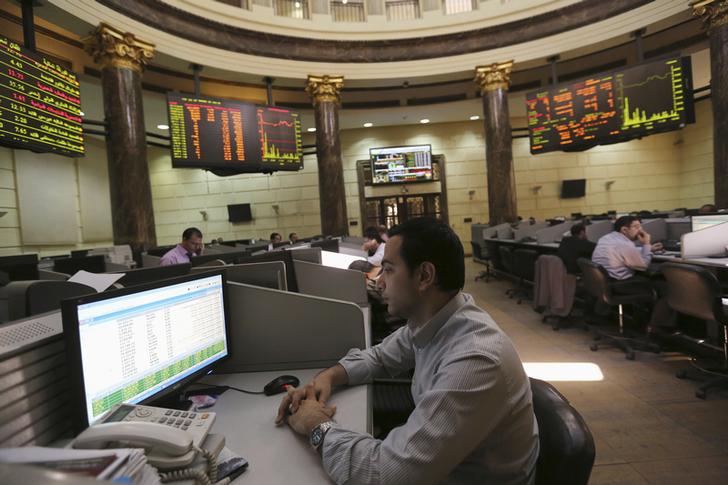 A trader watches his monitor at the Egyptian stock exchange in Cairo April 1, 2014. REUTERS/Mohamed Abd El Ghany
CAIRO, Nov. 24 (Aswat Masriya) - Orascom Telecom, Media and Technology's (OTMT) recent debacle in North Korea and the downing of the Russian fighter jet Su-24 by Turkey, dragged down the Egyptian stock exchange on Tuesday, analysts say.
The stock market ended trading with retreats across its main indices, its benchmark index dropping by 2.01 percent, continuing a dip that started on Monday.
The index for small and medium enterprises EGX 70 and the broader EGX 100 fell by 0.97 percent and 1.79 percent respectively. Egyptian and foreign traders made net sales, while Arab investors made more purchases than sales.
Ahmed Zakaria, the director of customer accounts at Okaz Securities Brokerage said that rumours of the nationalisation of OTMT's North Korean operation Koryolink are "still dominating the market."
"There are great fears because of this rumour," he said.
Orascom Telecom, whose executive chairman is telecom magnate Naguib Sawiris, who denied the rumours, is listed in the Egyptian stock exchange. Its stock fell by 13.2 percent since the beggining of trading this week, after the company said on Sunday that it is excluding its North Korean investment from its financial statements.
In 2011, Sawiris pumped huge investments into the North Korea's virgin telecom industry.
International sanctions imposed on the country and the fiscal policies applied there were an obstacle to transferring funds between Cheo Technology, the North Korean joint venture cellular operator that uses the Koryolink brand-name, and OTMT, its parent company.
The situation got more complicated when Koryolink began facing competition after the government set up another cellular operator. In August, Orascom said losses inflicted on it amounted to EGP 3.1 billion.
Although, the news had been developing over months, last week it made international headlines, including a cynical one on the Washington Post, "North Korea tells Egyptian company: Thanks for the cellphones. We'll take the company, too."
Zakaria said a single piece of negative news affects the market and is always accompanied by heavy selling.
He also believes that the savings certificates issued earlier this month by several public and private banks, with an annual interest rate of 12.5 percent, are still affecting the market.
This interest rate was around 2.5 or 3 percent higher than the available return on a saving scheme offered in Egyptian banks at the time.
Zakaria said many traders are opting for the "safe investment" in banks, rather than the stock exchange.
However, technical analyst Mohamed Saad from al-Naeem Brokerage, believes today's retreat may have come from outside Egypt. Earlier on Tuesday, Turkey shot down a Russian fighter jet, which it says violated its airspace.
The Kremlin says the plane was shot down in Syrian territory, while it was one kilometre away from the Turkish border.
Russia began launching strikes on targets in Syria in September. But last week, Russian President Vladimir Putin announced the "intensification" of Russian operations to include long-range aviation and naval units in response to what it believes was a the terrorist downing of a Russian civilian flight in North Sinai on Oct. 31.
Saad said the incident between Turkey and Russia has sent European and Turkish markets stumbling by over 1 percent.
President of the European Council Donald Tusk sent out a message on Twitter today saying, "in this dangerous moment after downing of Russian jet, all should remain cool headed and calm."
(Reporting by Yasmine Selim; Writing by Hend Kortam)