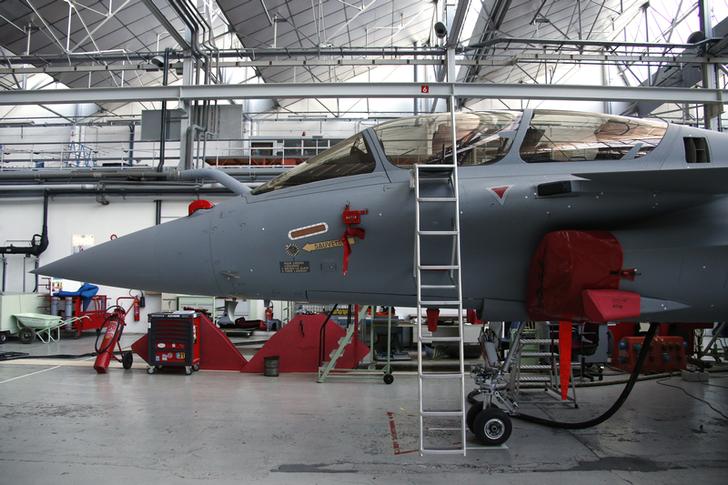 A Rafale jet fighter is seen on the assembly line in the factory of French aircraft manufacturer Dassault Aviation in Merignac near Bordeaux, southwestern France, January 10, 2014. REUTERS/Benoit Tessier
CAIRO, Jul 20 (Aswat Masriya) - France has delivered three Rafale fighter jets to Egypt, the first batch of a deal in which Egypt bought 24 jets from a French aircraft manufacturer, a military official said on Monday.
Egyptian pilots were in France for two months to train on how to use the new jets, the military source told Aswat Masriya.
On February 16, Egypt sealed a deal with France, purchasing the fighter jets, a multi-mission frigate and short and medium-range missiles, from French aircraft manufacturer Dassault Aviation.
The deal which was worth over 5 billion euros was signed in Cairo by the two countries' defence ministers.
Egypt received the French Frégate Européenne Multi-Missions (FREMM) frigate on June 23.
The fighter jets are set to be used in securing the inauguration on August 6 of the 72 kilometere-long new canal being dug parallel to the Suez Canal, the military source said. The frigate is expected to be at the celebration as well.
The source said the fighter jets represent a "quantum leap" in the "electronic generation of wars", listing their advantages which include the capacity to refuel in the air.
Days ahead of the official signing in February, French president Francois Hollande announced the deal and said it will "allow Egypt to increase its security and play a full role in the service of regional stability."
This is the first export contract of Rafale jets.