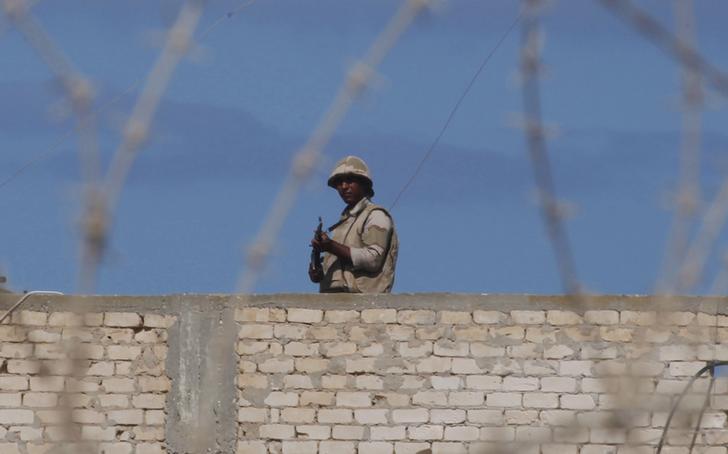 An Egyptian soldier guards the border between Egypt and southern Gaza Strip September 16, 2013. REUTERS/Ibraheem Abu Mustafa
CAIRO, May 6 (Aswat Masriya) - Aerial bombardment of two locations near North Sinai's Rafah city on Wednesday left 21 suspected militants dead, security sources said.
Apache helicopters struck the two sites, leaving 15 dead in one of them and six dead in the other, the sources said.
They added that there was information indicating that two cells belonging to the Sinai-based militant group Ansar Bayt al-Maqdis were located in the sites.
Militancy inside Egypt has seen a significant rise since July 2013, with most attacks targeting security forces in North Sinai.
In November 2014, Ansar pledged allegiance to the leader of the Islamic State fighters in Iraq and Syria, after Islamic State fighters gained control over large areas of Iraq and Syria over the summer of 2014.
Ansar has claimed responsibility for numerous attacks on Egyptian security forces, both before and after it affiliated itself with Islamic State fighters.
Amid an intensified campaign to counter insurgency, the army said, security forces killed over 300 suspected militants in security campaigns in North Sinai during the months of February and March, in a number of separate statements.