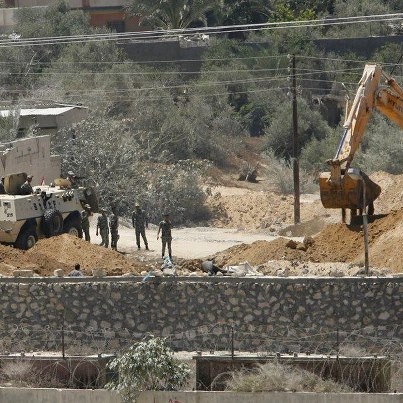 (Archive) Army forces supervise the process of demolishing tunnels in North Sinai - Aswat Masriya
CAIRO, Dec 19 (Aswat Masriya) – An "extremist" was killed on Friday in a security campaign in different parts of North Sinai's town of Arish, a security source said.
Ten others were also arrested in the towns of Rafah and Sheikh Zuweid, the source told state-run MENA.
Security forces destroyed four "terrorist hotbeds" as well and three motorbikes used in terrorist operations.
Earlier on Friday, the forces dismantled an improvised explosive device (IED) and detonated a second in Sheikh Zuweid. No deaths or casualities were reported
Militants have stepped up attacks targeting security forces in Egypt, particularly in the Sinai Peninsula, since the army's ouster of Islamist President Mohamed Mursi in July 2013, which followed mass protests against his rule.
At least 30 military personnel were killed in a suicide blast which targeted a security checkpoint in Sinai's Sheikh Zuweid on October 24, in the worst militant attack since Mursi's ouster.
Egypt's most dangerous militant group, the Sinai-based Ansar Bayt al-Maqdis, claimed responsibility for the attack in a video released on November 14, shortly after pledging allegiance to the leader of the Islamic State fighters in Iraq and Syria.
President Abdel Fattah al-Sisi declared a three-month state of emergency and a nighttime curfew in parts of the Sinai Peninsula in response to the attack.