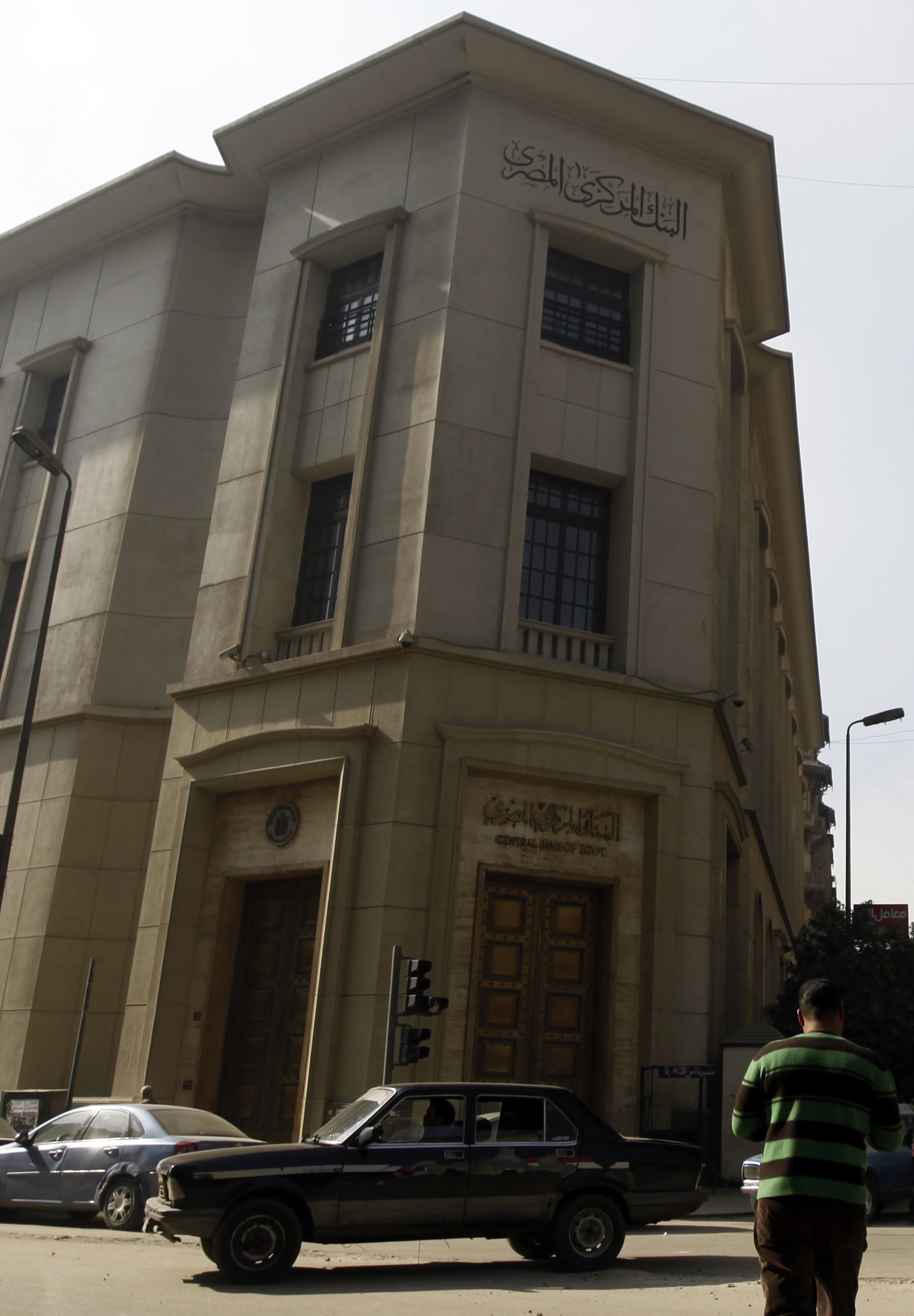 People walk in front of Central Bank of Egypt Headquarters in Cairo December 30, 2012. REUTERS/Amr Abdallah Dalsh
CAIRO, Sept 1 (Reuters) - Egypt's central bank kept its overnight deposit and lending rates at 9.25 percent and 10.25 percent respectively on Monday, as widely expected given competing pressures from high inflation and economic stagnation.
The bank said in a statement the rates "are currently appropriate" to limit a general price increase.
Economists in a Reuters poll had predicted Egypt would keep rates steady in an attempt to balance the need to hold down inflation while supporting an economy that has stagnated for more than three years.
Inflation has slowed since reaching its highest in nearly four years, at 13 percent, last November. But it rose in July after the government introduced fuel price increases, which can in turn push up other prices and pay demands.
"Higher than anticipated indirect and second round effects pose an upside risk to the inflation outlook," said the central bank.
"On the other hand, as the possibility of a sharp rebound in international food prices is unlikely in light of recent global developments, upside risks to the inflation outlook from imported inflation continue to be contained."
At its last meeting on July 17, the central bank raised benchmark interest rates in an unexpected move seen as an attempt to hold down inflation after the fuel hike.
Foreign investors and tourists have been scared off by a popular uprising that toppled autocrat Hosni Mubarak in 2011, and renewed upheaval last year when the army ousted the country's first elected president after protests against his rule.
The economy grew 1.2 percent in the first half of 2013/14, far too little to reduce widespread unemployment. Despite billions of dollars in aid from Gulf allies in the past year, Egypt's economic recovery has been sluggish and growth forecasts for this year range between 2 and 2.5 percent.
"While investments in domestic mega projects such as the Suez Canal are expected to contribute to economic growth, the downside risks that surround the global recovery on the back of challenges facing the euro area and the softening growth in emerging markets could pose downside risks to domestic GDP (gross domestic product)," said the central bank.
Egypt aims to expand trade along what is the fastest shipping route between Europe and Asia.
The Suez Canal project includes the development of 76,000 sq km (29,340 square miles) around the canal into an international industrial and logistics hub to attract more ships.
Officials have said the new canal would boost annual revenues to $13.5 billion by 2023 from $5 billion currently, providing vital hard currency. (Reporting by Michael Georgy; Editing by Ruth Pitchford)