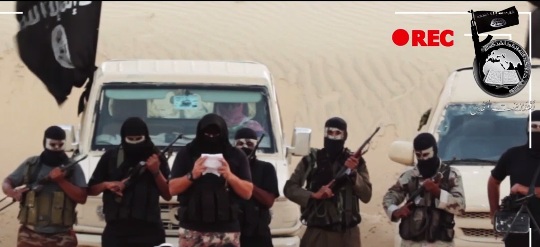 A snapshot from a video released on Twitter by Ansar Bayt al-Maqdis on August 28, 2014.
NORTH SINAI, Jan 10 (Aswat Masriya) – Residents of North Sinai's Sheikh Zuweid found on Saturday the bodies of two decapitated youths, police sources said.
The sources, who preferred to remain anonymous, said the decapitated youths belong to a renowned tribe in Sheikh Zuweid. The bodies were taken to Sheikh Zuweid hospital.
Tribal sources said the deceased youths were kidnapped two weeks ago by "unidentified gunmen under the pretext of cooperating with security apparatuses."
The number of security personnel and civilians killed in armed attacks by militants in North Sinai significantly surged during the past few months.
Residents of the Sheikh Zuweid region found on August 20, 2014 the decapitated bodies of four civilians.
In a video allegedly released by the Sinai-based Ansar Bayt al-Maqdis last August, the group claimed responsibility for the beheading of the four civilians, accusing them of providing intelligence to Israel.
Similar executions of civilians have been repeatedly occurring since then, gripping the lives of dozens of residents.
Police sources said on Saturday that there are currently seven youths kidnapped by the militant group, also under the pretext of cooperating with security forces.
Militants have stepped up attacks targeting security forces in Egypt, particularly in the Sinai Peninsula, since the army's ouster of Islamist President Mohamed Mursi in July 2013, which followed mass protests against his rule.
At least 30 military personnel were killed in a suicide blast which targeted a security checkpoint in Sinai's Sheikh Zuweid on October 24, 2014, in the worst militant attack since Mursi's ouster.
Ansar Bayt al-Maqdis, which has changed its name to Sinai Province since pledging allegiance to the leader of the Islamic State fighters in Iraq and Syria, also claimed responsibility for the attack in a video released on November 14, 2014.