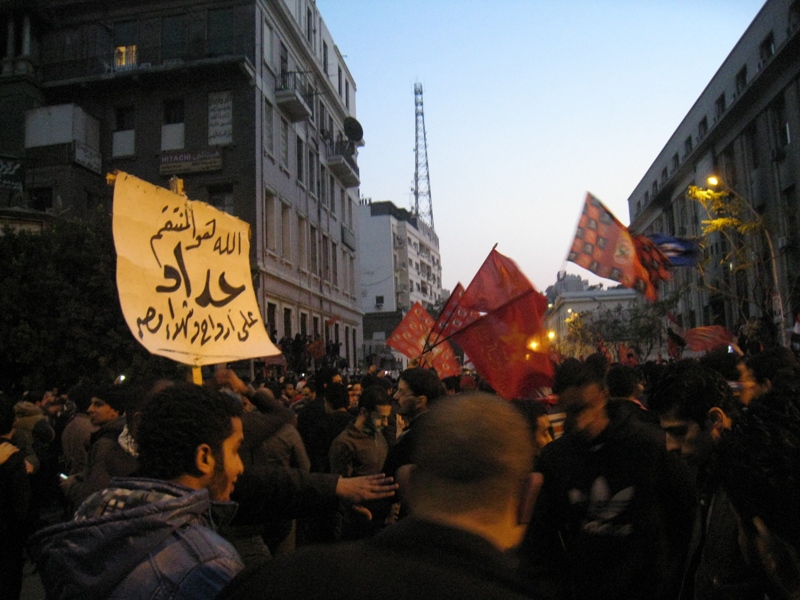 Protests in Mohamed Mahmoud street - Abdel Ghani Sayed/AswatMasriya
Bringing to justice those responsible for the victims of last year's "Mohamed Mahmoud" clashes is a key test to the commitment of Egypt's president to reforming the country's security apparatus, Human Rights Watch said on Monday.

Violent clashes between police forces and protesters erupted on November 19 of last year leaving over 40 people dead in what is seen as one of the turning points in the history of Egypt's January 25 uprising. The clashes later became known as "Mohamed Mahmoud" after the near-Tahrir street where they began.

Families of the victims of the deadly clashes are still awaiting justice a year after the incident, HRW said in a statement on the anniversary of the Mohamed Mahmoud clashes.
The non-governmental organization considers the case an excellent example of police officers escaping justice after using violence against protesters.

"Since January 2011, police officers have escaped punishment for murder, again and again", said Nadeem Houry, HRW's Middle East and North Africa director.

Houry added that Egypt's newly-elected President Mohamed Mursi must use the anniversary of the Mohamed Mahmoud clashes to put an end to police officers escaping justice and reform the police apparatus to avoid future violations.
Since the uprising to topple Hosni Mubarak, many police officers who were accused of complicity in the killing of protesters, during and after the January 25 revolt, were acquitted by courts.